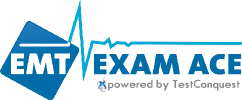 [This product] practically guarantees your success on the NREMT cognitive exam.
Boston, MA (PRWEB) August 03, 2012
Anxious about your impending EMT-P certification exam? EMT Exam Ace has just what you may need: a cost-effective and dense EMT-Paramedic online course packed with practice questions and review material.
"With over 1,300 realistic EMT-P practice questions at your fingertips, our comprehensive EMT-Paramedic online course offers more than just practice," notes Ted Chan, founder of TestConquest, the parent company of EMT Exam Ace. "It practically guarantees your success on the NREMT cognitive exam."
The EMT-P online course is similar to the two previous online preparation courses by EMT Exam Ace: EMT-Basic and EMT-Intermediate. Each purchase includes nearly 1,400 EMT-Paramedic questions written by expert EMTs and study material, including glossary and strategic EMT test-taking tips.
In addition, all EMT Exam Ace products come with a 100% NREMT pass guarantee. "If you don't pass your exam the first time, we will be more than willing to extend your subscription to our EMT-Paramedic online course until you do. That's how confident we are in this product," says Chan.
The EMT-Paramedic online course is intended to be an economical alternative to traditional classroom courses that can cost thousands of dollars in some states. The core of all EMT Exam Ace products is the extensive question bank.
"When you browse through our questions, you are essentially previewing something exceptionally similar to the actual EMT-Paramedic exam," says Samantha Tanzer, product development manager of EMT Exam Ace. "Our questions are all written by veteran EMTs in the industry."
The EMT-Paramedic online course is offered at an introductory low price of $49.99. In addition, students, military personnel, teachers, and civil servants with valid credentials are eligible for special discounts found on the EMT Exam Ace website.
About EMT Exam Ace and TestConquest
EMT Exam Ace is an upcoming website that provides comprehensive online review courses at the EMT Basic, Intermediate, and Paramedic levels. Boston-based TestConquest, its parent company, is an educational enterprise providing professional certification preparation solutions. Visit http://www.emtexamace.com to learn more about how you can ace EMT certification.