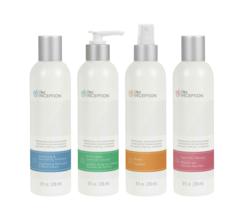 The response from domestic and international distributors was overwhelming, Claudio Correia, President, Boca Cosmetics Group, stated. It was beyond any of our expectations. We now have confirmation that we are on to something big."
Boca Raton, FL (PRWEB) August 01, 2012
The Apple Stem Cells are harvested from a rare Swiss apple called the Uttwiler Spätlauber and are rich in hydrogen, phytonutrients, antioxidants, proteins and age resistant cells. Currently, apple stem cells are the most exciting breakthrough ingredient within the cosmetics industry.
In Olez INCEPTION, Apple Stem Cells slow down of the deterioration of hair follicles which allows INCEPTION's straight and shiny results to last for up to 6 months, something other straightening brands have not been able to achieve. Olez INCEPTION provides a unique "Naturally Straight" look; in contrast to the "processed" look other treatments offer.
Everything needed for beautiful and healthy hair and to create a "wow! factor" comes in Olez INCEPTION's convenient 4 product kit: Cleansing and Nourishing Shampoo, Action Apple Stem Cell Solution, Sealer and Stem Cell Masque. The kits are available in 8oz.and 2 oz. An average treatment utilizes 1 oz. of each of the 4 products. 8 treatments can be applied from the 8 oz., and 2 treatments from the 2 oz.
Olez INCEPTION's product line includes two home care products:
INCEPTION Stem Cell Masque utilizes apple stem cells to restore hair elasticity. Additional natural nutrients including Argan, Carite, Cupuaçu, Muru-Muru and Pracaxi provide deep hydration resulting in incredibly sleek, silky, soft hair. (6.8 oz./Retail $80.00)
INCEPTION Argan & Pracaxi Natural Oil Aerosol Spray is the first Argan and Pracaxi product to come in a convenient environmentally friendly and regulatory compliant aerosol. A unique blend of Argan and Pracaxi natural oils hydrate and condition while at the same time, protecting the hair with antioxidants. The Spray is effective in combating the damaging effects of UV rays while maintaining silky, shiny, and smooth hair. (1.7 oz/ Retail $28.00)
Olez INCEPTION represents the second professional hair care line from Boca Cosmetics Group. Olez Advanced was launched in 2011. The Olez Advanced kit includes an 8-ounce Clarifying Deep Cleanser and an 8-ounce Straightening Solution. Olez Advanced can typically be applied in about an hour and is formaldehyde free, sprayable, and safe for color or chemically treated hair. Olez's aftercare line includes Salt & Sulfate Free Shampoo (8 oz./Retail $22.00), Intensive Care Conditioner (8 oz./ Retail $22.00), and Velvet Hair Gloss (8 oz./Retail $20.00). Combined, these aftercare formulas maintain the treatment performed at the salon and continue to enrich the hair with the Olez keratin blend and preserve the salon application for up to 12 weeks.
Boca Cosmetics Group, "Innovation Inspired by Nature", is a manufacturer of innovative, quality hair care products that combine natural ingredients with the latest technology to deliver health and beauty. For further information please view our website at http://www.olezprofessional.com or call Jeremy Lurie, Marketing Director at 800.251.2479.