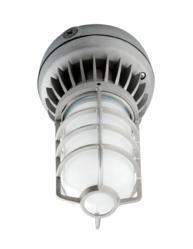 The 26 Watt luminaire produces light output equivalent to a 200W incandescent fixture, yet it lasts 50 times longer and uses 85% less energy.
Northvale, NJ (PRWEB) August 01, 2012
Popular for its distinctive retro, industrial look and versatile application, the VXLED26 is UL listed for wet locations making it ideal for areas with high humidity and condensation. With a 50,000-hour life, the VXLED26 is well suited for hard-to-reach areas, such as elevator shafts, bridges, tunnels, and construction zone scaffolding where re-lamping can be difficult and dangerous. Due to its superior, patent-pending thermal management and maximum heat-dissipation design, it is also an excellent luminaire for areas with excessive heat, which can reduce the performance and life span of other fixtures.
The luminaire is available in cool, neutral and warm color temperatures and in ceiling and wall-mount options. Its housing is made of all die-cast aluminum construction, high temperature silicone gaskets and a natural, shot blasted aluminum finish. The fixture comes standard with a guard and a shock-resistant frosted globe that produces a smooth and uniform light distribution. Additional globe colors are available, including amber, blue, green, ruby and opal. Like all RAB LED products, it comes with a full five year bumper-to-bumper warranty that covers the fixture, driver and all other components.
"The VXLED26 offers the same economy and high performance characteristics as all of our Vaporproof LED fixtures plus it produces more lumens for applications that require higher light output," says Ross Barna, CEO of RAB Lighting. "Pound for pound the VXLED26 is the clear choice to replace 200 Watt incandescent vaporproof fixtures."
About RAB Lighting
Founded in 1946 and located in Northvale, New Jersey, RAB Lighting leads the industry with innovative, affordable, LED lighting fixtures using LED, HID, CFL and motion sensing technology. RAB's extensive portfolio of professional grade products are sold through a broad network of electrical distributors and are all designed for ease of installation, durability, and high quality standards. For more information, call (888) RAB-1000 or visit http://www.rabweb.com.