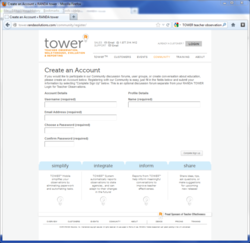 With such varied uses of TOWER, it's only natural we came to create a Community resource for educators to share best practices.
Nashville, TN (PRWEB) August 03, 2012
RANDA Solutions announced today their TOWER website has added a Community resource to provide educators a forum to share ideas about performing teacher evaluations effectively. As the latest updated version of their successful TOWER Mobile solution (Teacher Observation, Walkthrough, Evaluation and Reporting) is being prepared for release, RANDA took the opportunity to initiate a solution-specific website to promote TOWER.
The new site's Community section allows TOWER users and non-users alike an opportunity to share advice and tips to formulate best-practices - including issues like how to have constructive conversations with teachers based on reports. Other tips relate to the most efficient use of TOWER tools, or tech tips for users. Additionally, non-TOWER users can watch video shorts explaining the solution and schedule private demonstrations that address their unique needs.
"Our clients use the TOWER teacher observation solution in a number of ways," says Randall Dennis, Chief Strategy Officer for RANDA Solutions. "Some districts use TOWER independently, some integrated with state-level systems, some as a management tool for informing meaningful conversations, some in compliance with mandates, some simply as a walkthrough tool. With such varied uses of TOWER, it's only natural we came to create a Community resource for educators to share best practices." Dennis underscores their web Community is not limited to TOWER users, but any superintendent, administrator or principal who seeks to discuss efficient and effective means to observe and evaluate teachers. But he adds, "As for TOWER users, our team will be looking at comments and insights that help improve future versions of TOWER and inspire new products."
###
About TOWER System and TOWER Mobile
RANDA's TOWER System (Teacher Observations, Walkthroughs, Evaluation and Reporting) was written with educators for educators, with the benefits they wanted the most:
‣ Paperless. Observers and administrators save time. Observation quality and accuracy improves. Data is accessible and usable.
‣ Manageable. Straightforward observation and walkthrough scheduling. Trouble-free progress monitoring.
‣ Easy! Simple to learn. Simple to operate.
‣ Mobile. Synchronization to TOWER Mobile native apps offer complete mobility and security without 100% Wi-Fi coverage.
‣ Rubric agnostic! Flexible, to change as your state requirements change.
About RANDA Solutions
RANDA Solutions is an INC. 500 software firm based in Nashville, TN serving the education sector. RANDA acquires, manages and utilizes data providing administrators and teachers a variety of education intelligence: Student Data (student identification, student demographics, summative and formative assessments, student growth, course completion, and college readiness), Educator Data (educator identification, educator demographics, professional development/continuing education, teacher student data link, value added assessment alignment, and teacher effectiveness), and Third-party Data (community demographics, school climate, early warning data, etc.). Historical and live data reporting, along with additional customized content, is delivered via RANDA's secure web portals and integrates seamlessly with RANDA's cross-platform mobile applications for iPads and Android devices.