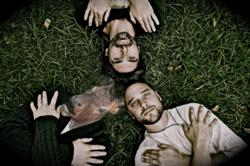 Teaneck, NJ (PRWEB) August 02, 2012
The Trip today released a new music video for their song "Still Water," the second single off of their self-titled album released by OK!Good Records earlier this year in April. The new music video can be seen exclusively on The Trip's YouTube Channel.
The Trip are perhaps best known for their clever, frisbee-themed music video produced for their song, "On The First Time," which earned its way into rotation on MTVu after winning the Freshman Video Contest and gained further notoriety after landing on websites such as Funny Or Die and ESPN.com.
In the new video for "Still Water," The Trip once again display their unique and outrageous sense of humor. The video takes place in the wilderness of Canada, where the band has recently taken up new residence, and features band members, Chad and Marco getting into some strange antics with some very unlikely characters: two taxidermic elks.
The Trip's debut album is available for purchase on iTunes, Amazon and major retailers, as well as the OK!Good Records website (http://okgoodrecords.com). The Trip's alternative pop/rock style of music compares to early Red Hot Chili Peppers and Maroon 5.
OK!Good Records is an independent record label based in the New York City area. Founded in 2011 as an outlet for unconventional, evocative, and genre-defying music, OK!Good's mission is to pluck talented artists from all corners of the global landscape and present them to the American public.