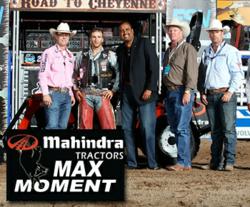 I own a ranch in Texas and this great tractor will really come in handy
Fort Worth, Texas (PRWEB) August 01, 2012
This week at the 2012 CBR World Championship at Cheyenne Frontier Days, fans got to experience the Titan Machinary Mahindra Max Moment when 3-Time PRCA World Champion, J W Harris got a shot on the Bounty Bull, Ropin Dreams, owned by Danny Reagan.
Harris successfully rode the bull for a crowd pleasing 93 points - in turn, winning a Mahindra Max Tractor valued at over $15,000!
Harris will have no problem putting his new "Max" to great use.
"I own a ranch in Texas and this great tractor will really come in handy. This was a once in a lifetime opportunity to ride this bull, for this prize at the Daddy of em All in Cheyenne and I want to thank Mahindra Tractors and CBR for a great night, " stated Harris after his win.
Among the thousands in Cheyenne to witness the event, were several dedicated team members from Mahindra USA, which is headquartered in Houston, Texas. "It was exciting to be a part of the CBR World Championship with the Mahindra "Max Moment," putting the best rider, on the best bull for the chance to win the industry's best tractor," said Mani Iyer, President of Mahindra USA. "The highlight of the evening was watching JW Harris Rise to the occasion and, accepting no limits, successfully ride the previously un-ridden bull, Ropin Dreams, to win the Mahindra MAX. I enjoyed handing over the keys of the Mahindra Max tractor to JW along with the assurance that Mahindra MAX is as strong as a bull, but definitely a lot more comfortable to ride."
"Mahindra USA's five-year sponsorship of CBR, continues to grow and evolve with the sport," said Cleo Franklin, Vice President, Marketing and Strategic Planning, Mahindra USA. "We are proud to be CBR's second longest tenured sponsor and the addition of Mahindra's "Max Moment" at the CBR World Championships demonstrates our commitment to developing innovative partnerships that are meaningful to our customers and CBR fans!"
Scott Davis, of CBR concluded, "Mahindra Tractors is one of our longest-tenured partners. Mahindra has been here for the evolution of CBR, dating back to our days on Outdoor Channel, through RFD-TV, GAC and now to FOX Sports Network. The opportunity to offer one of our riders a chance to ride for Mahindra's newest product – the 25HP Mahindra Max - was something that we were really excited to activate at the 2012 CINCH CBR World Championships. That type of activation and product integration is what Brands are now seeking through sponsorships with sports properties. CBR is proud to activate such a program for a great partner like Mahndra Tractors – we look forward to doing more like this with all of our partners in the future".
Now Seen On FSN Sunday Nights - for show information log onto http://www.cbrbull.com
About CBR
Led by bull riding icon, Tuff Hedeman, Championship Bull Riding, Inc. (CBR) is a nationwide, professional bull riding organization. The CINCH CBR Tour events are professionally produced live shows designed to be an adrenaline rush the whole family will enjoy. Starting in May of 2012 the CBR can be seen on their new host network FOX SPORTS NETWORK (FSN) with over 26 weeks of gripping, primetime television seen by over 20 million viewers. Combined with its subsidiary tour, the Horizon Series, CBR will visit over 70 venues throughout the United States reaching more than 350,000 fans in live attendance this year. CBR is the home of THE REAL COWBOY SPORT™ - the best bull riders and bulls in the world. We are committed to the riders, the fans, corporate sponsors, and all those involved in the professional bull riding industry. For more information on CBR, please visit http://www.CBRbull.com or call us today at 817.626.BULL (2855).