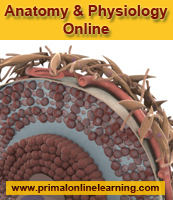 With the right learning tools, students can master critical anatomy in a fully online, virtual learning environment.
Tampa, FL (PRWEB) August 01, 2012
This spring, over 700 students at the University of South Florida (USF) studied anatomy & physiology in a fully virtual environment, using Primal Pictures' Anatomy & Physiology Online. Using this interactive, online learning tool, students view and study the entire human body using three-dimensional, medically accurate, rotatable images, and can complete these required courses from anywhere they can access the internet.
Seven years ago, Don Hilbelink, PhD, Professor in the Department of Radiology and Director of the USF Center for Human Morpho-Informatics Research, used a grant from the National Science Foundation to create the school's first online anatomy & physiology courses. Thirty students participated. Today, more than 700 students complete these courses each semester.
"USF requires a sequence of two one-semester courses of Anatomy & Physiology as prerequisite and/or core courses for all of our allied health and athletic training degree programs," said Hilbelink. "Before 2004, USF did not offer these courses and students needed to complete the courses elsewhere prior to enrolling at USF" said Hilbelink." My early pilot courses demonstrated that with the right learning tools, students can master this critical content in a fully online, virtual learning environment."
Recognizing the value of interactive learning, USF gradually expanded the courses, developing innovative calibrated peer review tools, and using many of Anatomy & Physiology Online's study tools and games to keep the course fully interactive and engaging. Anatomy & Physiology Online provides every student with clear, detailed and accurate 3D real-time modeling of all sections of the human anatomy. Users can create custom views to save as bookmarks or label, annotate and export. The images are created from real medical scan data and include over 7500 structures. Users can rotate the 3D models in any direction using a mouse, and control which structures are visible, added, removed, made x-ray or opaque either in groups – muscles, vessel systems and organ systems – or individually, structure by structure. All views can be peeled away, rotated and labeled. The product also includes narrated animations of physiology, learning objectives, self-testing, and pronunciation guides.
"Dr. Hilbelink is visionary in his thinking about the value of three-dimensional learning tools, and is constantly seeking ways to engage the growing number of students seeking a career in health sciences," said Peter Allan, CEO of Primal Pictures. "Today's students are often more comfortable with online learning, especially for complex, visual topics such as human anatomy. Thanks to Don's leadership, the University of South Florida is a step ahead in not just meeting student learning needs, but generating new course revenue and growing their enrollment."
The web-based system allows students to log in anytime from anywhere, and tracks the number of hours students spend with the program. Instructors can review data on student usage and study time and can adjust or modify the online lectures and discussions accordingly.
"We can offer high quality learning to many more students through this approach," said Hilbelink. "With the demand for health professionals growing, 3D modeling is going to be a big part of medical education."
ABOUT PRIMAL PICTURES
Primal Pictures offers the most complete, detailed and medically-accurate 3D model of human anatomy for students, educators and health care practitioners. Primal Pictures' 3D anatomy software is widely adopted in education and it is used for patient, practitioner and student education in over 20 countries. In 2012, over half a million students will learn anatomy using Primal software. In the past 12 months, Primal won the British Medical Association's annual prize for the best digital resource, and the Queen's Award for Enterprise: Innovation 2012, the highest official award that a British business can achieve.
ABOUT UNIVERSITY OF SOUTH FLORIDA
The University of South Florida is a high-impact, global research university dedicated to student success. USF is classified by the Carnegie Foundation for the Advancement of Teaching in the top tier of research universities, a distinction attained by only 2.2 percent of all universities. The Carnegie Foundation also classifies USF as a community engaged university. It is ranked 44th in total research expenditures and 34th in federal research expenditures for public universities by the National Science Foundation. The USF System has an annual budget of $1.5 billion, an annual economic impact of $3.7 billion, and serves 47,000 students in Tampa, St. Petersburg, Sarasota-Manatee and Lakeland.