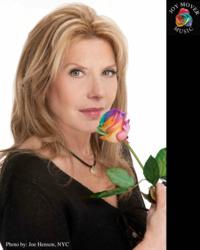 "Sometimes easy and fluid, sometimes intricate and challenging, her voice is always… beautiful." - Ira Sullivan
Boston, MA (PRWEB) August 07, 2012
Joy Mover releases her debut CD, Joy Mover.
After many years of writing, producing and recording the music that is so very much a part of her DNA, singer /songwriter Joy Mover is taking her first giant step toward actualizing her lifelong vision with the release of her self-titled debut, Joy Mover.
To say that Joy's roots are steeped in music is an understatement. Beginning with her great- grandfather, through her maternal and paternal grandparents and uncles, followed by her parents, brother and cousin, Joy's family has long been populated with professional musicians and singers. A Boston native, Joy has added a new dimension to the family's musical legacy with her ability to craft original songs, six of which see the light of day on Joy Mover, which has been released on her own Joy Mover Music label. Those originals share space on the album with her distinctive, inimitable take on such classic tunes as "Nature Boy," "Till There Was You," "Corcovado," "Fever," and "Dream A Little Dream of Me."
Joy's creative energy was so sparked when working on the material for this album that she also composed an original verse for the sultry "Fever," and wrote rap lyrics to introduce her rendition of "Till There Was You," layering a thoroughly modern attitude harmoniously atop the romantic standard with no trace of discord. Joy's uncanny knack for attracting incredible musical talent to help her realize her vision, along with her ability to transcend eras and styles are key elements that set her apart from the multitude of talented vocalists working today. The legendary trumpeter, flautist, saxophonist, flugelhornist, and multi-Grammy®-recognized Ira Sullivan (who has known Joy since her childhood) emerged to add his distinctive stylings on trumpet, alto flute and tenor sax to four tracks. Joy's brother, Bob Mover, an acclaimed saxophonist who has performed with such seminal jazz artists as Chet Baker and Charles Mingus and who is currently working with Esperanza Spalding, provides strong tenor sax support on 2 songs, offering up a stellar solo on "Till There Was You" and romping through "Nature Boy."
"To follow Joy Mover in song is to exercise the mind. Sometimes easy and fluid, sometimes intricate and challenging, her voice is always… beautiful. Her original compositions possess wit. They are contemporarily ornate and her vocal expression is exciting." - Ira Sullivan
The collection of artists participating in the making of Joy Mover is beyond impressive. From Joy's hometown of Boston, guitarist/arranger John Paul, winner of a Billboard Song Achievement award, New England Music Company's "Best Guitarist" award, and a spot among Jazziz magazine's "International Top Ten Guitarists," takes on guitar, bass, synth and vocal duties throughout the project, Paul also arranged several tracks, and co-wrote the instrumental chorus on Joy's original, "Have You Ever Loved?" Drummer Vinny Damaio (Adam Ant, Jody Watley, Wilson Phillips, and Dianna Krall) provides rhythmic support on Joy's utterly gorgeous rendition of Antonio Carlos Jobim's "Corcovado," as arranged by John Paul.
Hearkening back to her days at the University of Miami's Jazz Vocal Department, Joy also makes use of a strong cadre of musicians from the South Florida musical arena, including: pianist/arranger Mike Levine (Jaco Pastorious Big Band, Ed Calle); bassists Jamie Ousley (upright) and Javier Carrion (electric): saxophonist and flutist Billy Ross (James Brown, Julio Iglesias, Frank Sinatra, Mel Torme'), and drummers Sammy Levine and Lee Levin (who has performed with Ricky Martin, Julio Iglesias, the Bee Gees, and Jon Secada, and played on more than 1,000 recordings for such artists as Christina Aguilera, Pink, Nelly Furtado, Enrique Iglesias, and Kelly Clarkson). Guitarist Dan Warner (Celine Dion, Justin Timberlake, Shakira, Gloria Estefan, Enrique Iglesias), and percussionist/multi Grammy® Achievement Award winner, Richard Bravo, (Ricky Martin's MTV Unplugged and Shakira's multi-platinum Hips Don't Lie) round out the stellar contingent.
Joy's decision to combine her own striking original songs with distinctively unique interpretations of familiar material, and to surround herself with an assortment of players that both challenge and support her prodigious vocal talents is proof that while this eponymous album may be her recording debut, she is an artist with a boundless career ahead of her.
You can learn more about Joy Mover on her website at http://www.joymover.com
If you have any questions, comments or would like to set up an interview don't hesitate to contact Melissa Zeigler: Melissa(at)powderfingerpromo(dot)com.