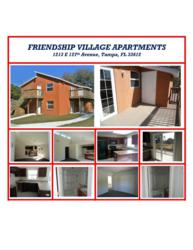 Tampa, FL (PRWEB) August 02, 2012
The Hillsborough County Board of County Commissioners and the Hillsborough County Alliance for Citizens with Disabilities celebrated the 22nd Anniversary of the signing of the landmark Americans with Disabilities Act with a Disability Expo and Public Forum. The event occurred on Wednesday, July 25, at County Center, 601 E. Kennedy Blvd. in downtown Tampa, 9:30 a.m. A public forum involving city and state legislators kicked off the event's activities.
Florida Home Partnership, a non-profit Community Housing Development Organization (CHDO) in Ruskin, FL, was among those recognized for their contributions in meeting the Americans with Disabilities Act (ADA) requirements. Building over 500 affordable, energy efficient and green homes, two community centers and pools, FHP incorporates handicap accessible features in its construction. FHP recently acquired an apartment building in the University Area of Tampa, FL, re-named Friendship Village, through Hillsborough County's Neighborhood Stabilization Program (NSP) and renovated one of the four units to be fully handicap accessible and making the other ground floor unit partially handicap accessible.
FHP staff looks forward to doing more for challenged individuals. In it collaboration with the H.A.L.O. Foundation (Helping Achieve Lasting Objectives), FHP is in the process of constructing a twenty four hour residential care home for six developmentally disabled and physically handicapped persons of Hillsborough County, Florida.
To learn more, contact Earl Pfeiffer, the Executive Director of FHP, at 813-672-7860 or email at earl(at)flhome(dot)org.