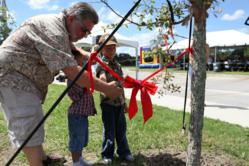 Margaret Braun, Hidden Creek Association President, remarked, "Building Hidden Creek was truly a community effort."
Wimauma, FL (PRWEB) August 02, 2012
Hidden Creek, the newest community of Florida Home Partnership, Inc., celebrated its first community block part, Saturday, July 21. The event was partially funded by the Hillsborough County Neighborhood Relations and Florida Home Partnership.
The neighborhood of families and individuals, who built their homes and community together through the USDA Self-help Program, cut the ribbon to its newly built and gated playground, equipped with multiple slides and a merry-go-round, basketball court, and community center. Nestled in a park-like setting east of Bill Tucker Road and Route 301 south in Wimauma, the 143 homes of Hidden Creek are convenient to shopping and services of Sun City as well as the Big Bend Road/I-75 intersection. Residents enjoy lush landscaping and walking trails that lead to the community clubhouse.
With a viewing deck that overlooks the scenic pond and aquatic preserves, the spacious clubhouse is fully equipped with tables and chairs; a meeting room, and a large hall that can be sectioned off for additional meeting space or set up for social functions. The community center also features a convenient bar with refrigeration, a large kitchen with two commercial-grade microwaves, sink, and ice maker; and a large clock tower, that chimes a melodic tune on the hour.
For more information about Hidden Creek, contact Margie Braun, the Property Owner Association President, at (813) 633-9600 or email at margiebraun@me.com.
About the Florida Home Partnership
Florida Home Partnership (FHP) is a non-profit Community Housing Development Organization (CHDO) has made homeownership a reality for over 500 low and moderate-income first-time homebuyers. Utilizing the USDA Mutual Self-Help Housing Program (SHOP), the government program began over 40 years ago, and mirrors the "barn raisings" of the Quakers with neighbors helping neighbors to build their homes together. No construction experience is necessary. FHP provides participants with guidance and tools. Determination and hard work build equity in the new homes. This program is ideal for those desiring homeownership in rural communities but having limited resources. For more information about the program, call 813-672-7860 or visit http://www.flhome.org, friend us at - http://www.facebook.com/Floridahome, follow us on Twitter - @flhome1.