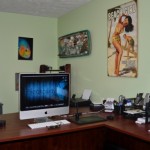 By creating a routine, you are again training your psyche to distinguish work-time from playtime.
Dallas, TX (PRWEB) August 01, 2012
Many graphic designers work from the friendly confines of their homes. And with a home office, a variety of challenges that can make working a chore come into play. This week, Sheana Firth tells GraphicDesign.com readers how to maintain a healthy work-life balance. The Poll Article can be found HERE.
Sheana Firth gets her feature article started by advocating for a dedicated workspace. "At the very least, you should have a specific area to work and be devoted to only performing work in that area," Firth recommends. "This little trick helps the human psyche to distinguish from work and play subconsciously."
While many designers adhere to their clients around-the-clock, Firth stresses working during business hours only. She explains, "Resolve yourself to working on client projects only during your regular work hours. By answering phone calls and e-mails only during posted hours of operation, you send a clear message that you are a bona fide business like any other."
Graphic designers who work from home are encouraged to create a routine they can repeat every day. Maybe it's getting up, showering, going for a walk, taking the dog out, and then "commuting" to the office. Firth points out the routine's desired effect: "By creating a routine, you are again training your psyche to distinguish work-time from playtime."
Anyone who works from home knows that distractions from friends and family can be major hindrances to a productive day. "By being honest and frank about your working hours with friends and family, you can avoid the hassle of constantly having to explain that you are not sitting around all day eating cheese puffs and waiting for something to do," Firth notes jokingly. In essence, setting clear boundaries, especially during work hours, can help work-from-home designers excel.
Finally, Firth recommends taking advantage of a flexible schedule. Going out for lunch, getting some exercise, and breathing in fresh air can all help graphic designers get inspired, which can in turn make them more productive. She concludes with perhaps her most important message: "You have the freedom to make your own choices, your own hours, your own environment… take advantage!"
In order to engage its readership, GraphicDesign.com poses poll questions in articles each week. This time around, Firth's piece takes center stage and at its conclusion, members of the design community are asked three questions:
1. Do you find yourself working odd hours?
2. If you work from home, how many hours do you spend working "after hours"?
3. Do you charge clients more for after hours work?
The poll will remain open until August 12th at Midnight PT. Visit GraphicDesign.com to weigh in on balancing work life and home life. The article and poll can be found HERE.
About GraphicDesign.com
GraphicDesign.com is a product of Terran Marketing and a leading source of news and information devoted entirely to the graphic design industry. Employers, students, and freelancers come to GraphicDesign.com to read and discuss current news, information and events in the graphic design industry.
Contact:
Julia Wild
Terran Marketing
892 East Steger Town Road, Suite #206
Rockwall, TX 75032
Phone: (540) 908-2195
E-Mail: julia(at)graphicdesign(dot)com