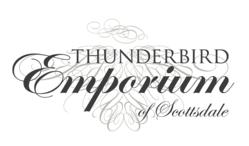 Scottsdale, Arizona (PRWEB) August 01, 2012
In addition to their collection of fine arts, Thunderbird Artists' latest event has expanded the American craft mediums to include; fine clothing, unique textiles, sophisticated accessories, sculptural candles, home décor, gifts items, exquisite quilts, handmade bears, hand crafted collector dolls, wood sculpted nutcrackers, Christmas ornaments, sculptures and more. Thunderbird Artists' reputation attracts the stylish, elegant, affluent patron; therefore, they will continue their rigorous jury process accepting only the "best of the best" in each category.
This holiday celebration will line the banks of the Scottsdale Waterfront, with Christmas lit booths reflecting sparkling colors across the water. The aroma of chestnuts roasting on an open fire, add to the ambiance of the holiday season and spirit of shopping. This European festive marketplace includes the fun of sipping micro brews, fine wines, tasting chocolates, old-fashioned fudge and listening to Dickensian Carol Singers. There will also be fresh flowers, marzipan and European Christmas sweets and treats. Partnering with the Scottsdale Chamber and City of Scottsdale, this is expected to become a Scottsdale Signature Event.
One dollar from every $5.00 admission is donated to the non-profit veteran charity, American Healing Arts Foundation, with a second dollar donated to the Scottsdale Chamber of Commerce. The Scottsdale Chamber is also hosting the wine tasting event. Hours are 10am to 8pm, Friday and Saturday and 10am to 5pm on Sunday. There is a free trolley shuttle service running throughout the Downtown Scottsdale area.
If you are a crafter interested in participating at this exciting venue to showcase your work and increase sales, call 480-837-5637. The application for this festival is available through Zapp or can be downloaded from our website: http://www.thunderbirdartists.com.
Thunderbird Emporium of Scottsdale
Scottsdale Waterfront,
7135 E Camelback Rd, Scottsdale Waterfront (AZ)
10am-8pm (Fri & Sat) 10am-5pm (Sun)