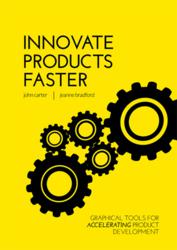 Menlo Park, CA (PRWEB) August 02, 2012
The authors of "Innovate Products Faster: Graphical Tools for Accelerating Product Development", John Carter and Jeanne Bradford, have released the Team Wheel, Attitude Influence, Function Phase Matrix, Outsourcing and Schedule Predictability Accuracy tools from the book on their website for readers to download. These tools are ready to go, pre-populated examples that help teams organize, lower political barriers, cooperate cross functionally, enable open innovation, and improve time to market.
The prevailing view of innovation is wrong. The traditional view of product development is that there is a fundamental dilemma between innovation and time to market. You can have one or the other, but not both. However, this is not a physical law like Newton's law and is not true. "Innovate Products Faster" was written to demonstrate that companies can have both innovation and speed. This requires mastery of tools and methodologies that can be quickly understood and implemented and will support managers in making better decisions faster. For instructions on how to use the tools individuals and corporations can purchase the book at Amazon.com and download the tools at no charge from http://www.tcgen.com/book/.
Midwest Book Review says "Innovation is the foundation of any business. 'Innovate Products Faster' is an advisory for business managers who want to help advance innovation in their business, and looking deeper into the dichotomy between innovation and time. Authors John Carter & Jeanne Bradford advise business managers to take a more comprehensive view of business development, and invites readers to break through old and useless traditions. 'Innovate Products Faster' is a must for business managers who want the most out of their companies."
About The Authors: John Carter has been a CEO, CTO and an advisor to technology firms over his thirty five year career. As Principal of TCGen Inc., he has advised technology firms and currently serves on the Board of Directors of Cirrus Logic. John started his career at BOSE and later became its Chief Engineer. Jeanne Bradford has been a business and technology leader across a broad range of high tech companies over her twenty-five year career. She has led global organizations to deliver compelling products and technologies for some of the industries' leading companies, including Apple, Cisco and AOL. Both Carter and Bradford are available for interviews and speaking engagements. Contact them at http://www.tcgen.com.