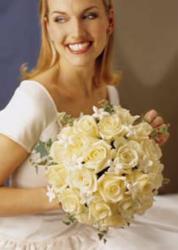 In today's face paced world we want to give brides and grooms the opportunity to save time by researching our wedding flower offerings online/anytime before stepping foot into the shop
Burlington, ON (PRWEB) August 01, 2012
Ken Bolt, patriarch and visionary of Brant Florist, the FTD award winning florist shop and ecommerce retailer, today announced the launch of the florist's complete wedding flower collection on-line at http://www.brantflorist.com. The introduction of wedding flowers to the florist's already robust on-line product selection for all occasions rounds out the florist's fresh flower offering. The on-line wedding flower launch encourages brides and grooms to research and get inspired by the hundreds of wedding flower product images before visiting the shop for a personal wedding consultation. From the comfort of home, couples can easily narrow down wedding flower likes and dislikes or even purchase wedding flowers on-line if they so choose.
"In today's face paced world we want to give brides and grooms the opportunity to save time by researching our wedding flower offerings before stepping foot into the shop. This launch allows couples to preview wedding flower designs, narrow down choices and to make thoughtful inquiries should they then choose to meet with our wedding design experts. We have been helping our customers express themselves with flowers for 51 years and by including wedding flowers to our website, this allows us add value and enhance the customer's experience with us," says Brant Florist's Ken Bolt.
Previewing wedding flowers on-line is an easy way to get a sense of what flower colors, designs and wedding products are available. Brant Florist encourages shoppers to use this information to get the conversation rolling regarding personal requests. Be flexible and listen to the florist's suggestions for substitutions given the seasonal nature of flowers. A reputable florist will have a wedding design team willing to work with the bride and groom to address custom wedding flower requests also.
Brant Florist has been in the flower business providing local, national and international flower delivery services for 51 years. Now the award winning FTD florist and ecommerce retailer has launched a wedding flower collection on-line to better serve the needs of consumers. The florist hopes consumers will use the on-line wedding flower offering as an inspirational resource and to even purchase flowers if desired. In-person and on-line, Brant Florist provides the freshest flowers and best customer service with every order.
Company Info:
Brant Florist - An online florist providing same day flower delivery to most North American cities and next day worldwide flower delivery. Brant Florist carries the full line of FTD, Teleflora and Interflora floral products. Now in their 51st year of business, Brant Florist has been owned and operated by the Bolt family since 1977.
Contact Info:
Ken Bolt
Brant Florist
Phone: 1-877-545-5535
Email: gifts(at)brantflorist(dot)com
Web: http://www.Brantflorist.com