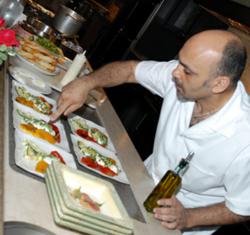 Milwaukee, Wi (PRWEB) August 02, 2012
Chef Michael Feker's Mediterranean/Italian inspired IL MITO Trattoria e Enoteca features palate pleasing flavors from around the world. Straight from the garden, on Feker's new lunch or dinner menus, the Capellini Primavera is a simple dish -- pasta and veggies -- yet sophisticated with its complex flavor profile from red onion, bell peppers, broccoli, asparagus, aromatics and extra virgin olive oil. Or start with a lettuce wrap, "Fekerize it" with hints of the Middle East, Asia and the Mediterranean and you get lattuga a capo: pomegranate- and balsamic-glazed barbecued breast of chicken accompanied by lettuce leafs, bell peppers, Kim chi, julienne of zucchini and carrots, toasted walnuts, chilled capellini and a roasted garlic spread. IL MITO's lunch and dinner menu also feature Chef Feker's frutti di mare linguine linguine pasta tossed with mussels, chopped clams, shrimp, scallops and calamari in a tangy white wine tomato sauce, all cooked in a foil purse to create an infusion of Fekerized flavors. Taste these flavors and more with Feker's new seasonal lunch and dinner menus (also available in gluten free options!) at IL MITO, located at 6913 W North Avenue in Milwaukee, Wisconsin.
"When you start with pure, unprocessed ingredients you give yourself the freedom to create amazing flavor combinations, textures and vibrant colors that truly enhance your dining experience," reveals Feker. Specializing in traditional Italian/Mediterranean cuisine with classical French training, Middle Eastern and Latin influences, along with world travels as a backbone, Feker strives to infuse his cuisine with flavors from around the world, all while staying true to the integrity of each ingredient he works with.
Michael Feker is an accomplished chef with more than 20 years of culinary experience, having studied abroad in Switzerland and beyond. He learned under the tutelage of renowned Chef Roberto Gerometta and has owned restaurants in Los Angeles, Milwaukee and now IL MITO Trattoria e Enoteca, along with CMF's School of Culinary Magic in Wauwatosa.
"Seasonal cooking allows nature to be your culinary guide and allows you to live in the moment and eat locally-grown ingredients. When I create my menus for my restaurant the seasons are my muse, I incorporate ingredients when they are fresh and abundant," explains Feker. "I use my knowledge of the chemistry of food along with seasonal availability and multicultural inspiration to amaze my guests with flavors that they would never think of putting together."
IL MITO Trattoria e Enoteca is an award-winning Italian restaurant and wine bar located on the East side of Wauwatosa, Wisconsin. Hours of operation include LUNCH Tues-Sat from 11 am to 2 pm; BRUNCH Sundays from 10 am to 2 pm; DINNER service starts at 5 pm, closed Mondays. Dine with Chef Feker at his Chef's Counter in his Culinary Studio, CMFs School of Culinary Magic. Learn the hows and whys as Feker prepares and presents your meal before your eyes. Chef Feker and IL MITO also offer full-service catering, office deliveries and more. Start your journey at http://www.ilmito.com
Keep up to date on Twitter @ChefFeker and Facebook ilmito-enoteca