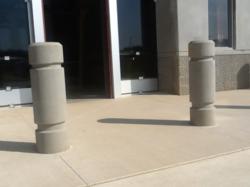 Manchester, CT (PRWEB) August 22, 2012
Dawn Enterprises, elite manufacturer of outdoor site furnishings, has just added a new concrete bollard to their complete line of outdoor site furnishings. This new concrete bollard is 12" in Diameter with a maximum height of 77". It includes 2 reveals on the sides along with a chamfered top. These concrete bollards are reinforced with rebar to ensure maximum barrier protection and strength.
These concrete bollards are designed to provide the needed security measures while their aesthetically pleasing design means there is no need to sacrifice beauty for security. Dawn Enterprises has supplied concrete bollards to schools, commercial buildings, military bases, gas stations, and restaurants and is a major leader in the marketplace.
In addition to this new concrete bollard, Dawn has a complete line of other concrete and steel bollards ranging in size, shape, and design to fit almost any job. Aside from their extensive line of standard bollards, as found on http://www.godawn.com, Dawn is happy to accommodate any custom job as well. Custom options include color, finish, reveals, eyebolts, length, diameter, fixed, and moveable.
Dawn Enterprises also provides recycled bollards and bollard covers making the options nearly limitless for anyone in the market for security bollards. Anyone searching for the right bollard for their business or property can speak with one of Dawn's friendly sales representatives who can help navigate all the options to ensure the perfect bollard for the job.
Dawn Enterprises also offers other site furnishings as well including: benches, tables, trash receptacles, urns, and planters. If you are interested in checking out the entire product catalog please visit http://www.godawn.com. If you would like to speak with someone in sales call their toll free number 800-262-3296 to speak with a knowledge sales representative to help you find the right product for you.