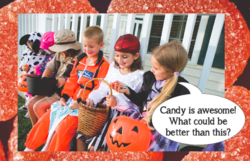 Halloween Tracts by Memory Cross are a fun way to share the Gospel and invite people to church.
Jamestown, NC (PRWEB) August 02, 2012
Memory Cross has created a Christian tract for Halloween activities such as trunk or treat or Alternative Halloween parties. The card provides a positive message of hope to children and adults and encourages them to visit the church again. The message of the tract is based on Jeremiah 29:11 which says "For I know the plans I have for you," declares the Lord, "plans to prosper you and not to harm you, plans to give you hope and a future." The last panel encourages the reader to visit NeedHim.org, I am Second or visit the church for more information.
Churches have found that Trunk or Treat and Alternative Halloween festivals have grown significantly in recent years as families look for other alternatives to traditional trick or treat activities. The initial concern was safety but many churches soon added other activities such as live music, food, hay rides, and games. They found that trunk or treat became one of the major outreach ministries of the church as hundreds of children from the surrounding communities came to participate in the activities.
Memory Cross has created several Christian tracts based around Halloween. There is a need for tracts that shares a positive Christian message during this time of the year. Memory Cross cards contain four panels that are die cut in such a way that they never stop folding. The design fascinates both children and adults and assures that the message will be seen multiple times. In addition to Christian tracts for Halloween, Memory Cross creates coloring cards that share the Gospel while providing an excellent craft activity.