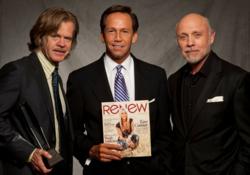 Recovery is a unique life experience, with unique challenges, milestones and celebrations. - Editorial Director Steve Diogo
Chicago, Ill. (PRWEB) August 01, 2012
Entering its second year of publication, Renew Magazine—the only national consumer magazine for people in recovery from alcoholism and other addictions—is doubling down on its mission to break the stigma of recovery and provide insight, inspiration and tools to point the way to a healthy lifestyle for the millions of Americans shackled by addiction.
Renew Media — which produces Renew magazine and its companion website RenewEveryDay.com — is entering its second year since its 2010 launch. In its two-year infancy, the magazine and website have seen considerable growth, bucking nationwide publishing trends toward reduced readership, circulation and advertising revenue.
Founder and publisher James Moorhead believes this growth proves that people in recovery are hungry for a sophisticated, positive media outlet that speaks to their specific needs and interests, and he is thrilled that Renew can fill the void.
In fact, Moorhead launched Renew to fill a gap he recognized when he first entered recovery.
"I was looking for magazines for people like me, a lifestyle magazine built around recovery issues," Moorhead says. "I couldn't find one, so I decided to take it on myself. I felt it was my calling."
Moorhead created Renew media to help support recovering individuals by providing engaging information and resources to keep them connected with the vast recovery community — and to also encourage them to embrace a healthy new lifestyle. Since its inception, the magazine and RenewEveryDay.com have expanded to also aid those in recovery from other addictions — sex, love, gambling, food, etc.
"Recovery is a unique life experience, with unique challenges, milestones and celebrations," says Renew Editorial Director Steve Diogo. "Traditional recovery resources are effective for helping people get started in their recovery, but they don't always speak to the specifics of how you live this new life in the real world. That's the mission of Renew: To speak the language of this huge population; to present positive role models; to provide the tools and insight recovering people need to succeed not just in their recovery, but in their careers, relationships and life."
With a tagline of "Your life, Better" and written by top addiction and wellness specialists, as well as those who face the daily challenges of real-world recovery, Renew magazine and RenewEveryDay.com inspire readers to embrace their sobriety.
Moorhead says he's proud he can showcase the positive side of recovery and help break the stigma associated with addiction.
"I'm proud to be in recovery," he said. "So often people keep quiet about it — and that keeps it where it's at. Because so many people keep quiet, there are a lot of people who don't know what recovery looks like. They don't see a person who, 10 to 15 years later, is thriving in life in recovery. That's the purpose of Renew—to show people how to celebrate life after recovery—what comes next after addiction. Once you get to recovery, it makes so many things possible."
Already in 2012, Renew has showcased exclusive interviews with chef and TV personality Andrew Zimmern, of the Travel Channel's Bizarre Foods with Andrew Zimmern, Laurie Dhue— veteran national newscaster — and addiction specialist and TV personality, Dr. Drew Pinsky.
Upcoming 2012 features include a candid interview with U.S. Olympic volleyball player Kerri Walsh-Jennings and her volleyball star husband, Casey Jennings, and TV and film actor Joe Pantoliano, of The Sopranos and other hit films, such as "Memento" and "The Matrix."
To learn more about Renew magazine or to subscribe, visit RenewEveryDay.com, which is an online beacon for the recovery community with daily articles, personal stories of recovery and helpful how-to's.