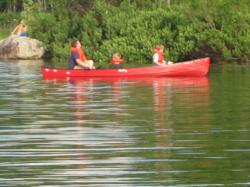 (PRWEB) August 02, 2012
The Petoskey-Harbor Springs Area Community Foundation (PHSACF) has awarded grant funds to Eagle Village for Emmet County families to attend Family Challenge Weekends.
Parents and youth attend Family Challenge Weekends together, learning new skills and insight into their relationship. Families identify issues, learn to communicate, set limits and goals and develop conflict resolution strategies. The weekends consist of group, individual and adventure activities.
Sara Ward from the Community Foundation said, "The goal of supporting Family Challenge Weekends is to help Emmet County families before their children become part of the legal or social service systems. Providing financial support for this unique intervention will hopefully help put several area youth and their families back on the right track so that they can function positively at home, stay in school to reach their potential, and become an asset to their communities."
Eagle Village is a co-ed facility excelling in Intervention Services, Residential Treatment, Foster Care and Adoption services, as well as Summer and Family Camps. Located in Hersey, MI, Eagle Village provides programs that directly improve the health and well-being of children and families through experiential learning, spiritual enrichment and counseling. For more information about Eagle Village, visit their website at http://www.eaglevillage.org