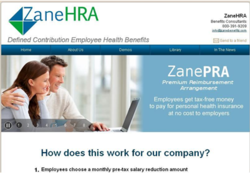 (PRWEB) August 02, 2012
Zane Benefits, which provides businesses, CPAs and health insurance professionals with comprehensive and flexible defined contribution health benefits and private exchange solutions, today released an on-demand training of its ZanePRA product, which is best for employers who do not want to offer health insurance.
View the ZanePRA Training On-Demand Now
With ZanePRA, employers allow employees to reimburse themselves for individual health insurance costs using pre-tax salary.
ZanePRA works best for companies do not want to offer health insurance. Employees typically save 20-40% in taxes on their insurance premiums. Employers save an additional 7.65% in FICA taxes on all reimbursements.
Features of the benefits software include online sign-up, electronic plan documents, and integration with any payroll system.
ZanePRA protects employer-employee privacy in compliance with IRS, HIPAA and ERISA.
With one in every two businesses dropping group health insurance, ZanePRA is a good alternative to allow employees to save 20-40%.
Insurance agents, CPAs, Chambers of Commerce, HR outsourcing companies, payroll providers and other business associations can grow their business by offering ZanePRA to clients.
In this 30-minute webinar recording, attendees will learn how to offer ZanePRA, including:

What is an PRA?
How does ZanePRA work?
How to integrate insurance services and private health exchanges with ZanePRA
Key features of GroupHRA
Insurance, Accounting and Small Business professionals looking to learn about alternative health plans should watch this webinar and sign up for a free partner account to receive ongoing health benefits resources.
About Zane Benefits, Inc.
Zane Benefits, Inc, a software company, helps insurance brokers, accountants, and employers take advantage of new defined contribution health benefits and private exchanges via its proprietary SaaS online health benefits software. Zane Benefits does not sell insurance. Using Zane's platform, insurance professionals and accountants offer their clients a defined contribution plan with multiple individual health insurance options via a private health exchange of their choice.