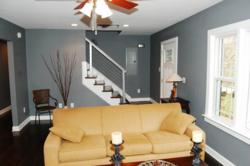 Decatur, GA (PRWEB) August 06, 2012
HausZwei Homes was started in 2011 when Kevin Polite, owner of HausZwei Homes when his lovely neighborhood of Midway Woods, in a rapidly gentrifying area of Decatur, Georgia began to experience an increase of foreclosures due to the housing crash. The last straw was when a home directly across from his current home went into foreclosure.
Kevin Polite, with a background in real estate advertising and a degree in Real Estate Marketing decided to add construction to his resume. Midway Woods is close to fashionable downtown Decatur, yet is in unincorporated DeKalb, thus having lower taxes.
His 401k was not producing sufficient returns so he gambled and closed out his combined 401k accounts and put all of it into in his real estate venture. HausZwei Homes is derived from his travels to German with the meaning of two homes. He decided on this name because he was going to initially begin with two homes, but the first two, one a rental and the other was sold, went so well, they decided to continue.
From his background in real estate advertising as the Real Estate Advertising Manager at the Atlanta Journal-Constitution, during the boom times in Atlanta real estate, he was very knowledgeable about real estate advertising. Staging was very important in selling a newer home, but with a limited budget he wasn't sure how he would be able to furnish this home. To keep cost down he moved much of the furniture from his living room, spare bedroom and dining room to stage the home. He was quoted as saying "the return on my investment was worth the time without any furniture in the living room."
1370 Deerwood, Decatur, GA 30030 is a beautifully restored 3 Bedroom, 2 1/2 Bath with 2 car garage designed by Stephen Foster for HausZwei Homes. This home has a great layout with an open floor plan. The kitchen includes all stainless steel appliances, granite counter top, farmhouse sink and faucet. European designed cabinets have drawers on lower level for more efficient storage and ease of use. French doors in dining room leads fenced back yard. This home was completely remodeled from the studs out.
The Master Suite is on the main floor with a walk-in closet with pocket door. The huge master bath has a linen closet and privacy room, floating double vanity with custom mirrors.
Powder room with wow with specially designed wood tile floors and separate laundry room.
Save on water with Tankless water heater that allows you to shower forever without losing hot water.
Feeney Architectural: Cable Rail® enhances the modern, but comfortable look. You won't see this in many homes in this price range in this area.
Upstairs you'll see a full bath larger than most main baths in the Decatur area, known for its 1950's ranch style homes. It also features 10' ceilings with ceiling fans in each bedroom with double closets and a loft/office/kids play area.
Outside you'll see a double garage with room for workshop and more storage. In addition, there is a storage building in back to store everything you didn't think you had room to store.
The huge inviting front porch features modern horizontal railing.
All of this is in a great neighborhood with a strong and connected neighborhood association (no fees). You are literally across the street from a wooded area that the DeKalb County owns and will not sell to developer. You can walk half block with kids or dogs to the park. There are three new developments within a 1/2 mile of $400+ homes.
So if you're tired of looking at foreclosures and waiting on short sales and want a home move in ready please come check this out. The home is currently priced at $249,975.
For more information contact HausZwei Homes, http://www.HausZweiHomes.com
About HausZwei Homes:
HausZwei Homes refreshes and re-energizes homes to resale and rent in the Decatur area. You won't find beige and boring in our homes. We maintain the traditional 1950's ranch style of the home, but add a modern touch to them. We love brick homes and are not afraid of adding color to them. The color of Year for 2012 Gray, but more importantly it's a nice neutral that matches everything. HausZwei Home's kitchens feature European designed cabinets. As most kitchens in Western Europe have sturdy and stylish cabinets designed by IKEA, HausZwei sources these for their homes. All updated appliances. Hardwood floors throughout. Closet space is normally lacking in older ranch homes, but they creatively include as much as possible.