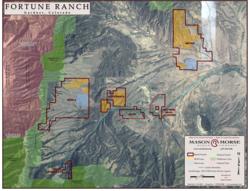 We saw that the recreational opportunities were world-class – hunting, fishing and every variety of trail riding
Denver, Colo. (PRWEB) August 01, 2012
The Fortune family purchased a roughly 10,557-deeded-acre ranch with an additional 6,200 leased acres over 10 years ago with plans to develop it as a working dude/guest ranch. Due to competing business interests, their plans never came to fruition. This unique ranch will be available to the public during a live auction event on September 28, 2012.
"We saw that the recreational opportunities were world-class – hunting, fishing and every variety of trail riding," said Cathryn "Cay" Fortune, the matriarch of her branch of the Indianapolis-based Fortune family. "Our plans were to highlight the uniqueness of each parcel, allowing guests to experience a different version of Colorado every day of their visit – from alpine conifer forests, to lush riparian river banks and pastures of grass and alfalfa. The ranch was ideal for our purposes, because the large working farm and cattle operation supported the guest ranch so well.
"One of our great regrets is not being able implement some of our plans – restoring the high mountain camp on the Mosca, building a hideaway under the rocks on the Redwing and building out the farming potential of the Higby and the Red Wing," said Fortune. "There are building sites on every parcel that would provide fantastic settings. We also believe the land has some incredible potential for conservational easements."
Unfortunately, intervening interests took the family's attention away from their planned development of a working guest ranch, leading them to decide to sell the property to buyers who will give it the attention it deserves.
"The silver-lining is that we are leaving a blank canvas for someone else to bring their own vision to," said Fortune. "We just know the ranch is incredibly versatile and has great potential."
The ranch is located on the eastern slope of the Sangre De Cristo mountain range in the scenic Huerfano Valley, and it consists of roughly 10,557 acres and 6,200 leased acres. It features everything from lush irrigated hay meadows to high mountain pastures and alpine forests. According to the National Conservation Resource Service (NRCS), the ranch can handle approximately 325 to 350 animal units in an average year depending on range management and annual precipitation. The ranch also offers fishing on approximately three miles of the Huerfano River – which runs through two of the parcels – and hunting for elk, deer, antelope, bear and big horn sheep. The ranch has magnificent views from most parts of the property, and provides endless opportunities for hiking, horseback riding, four-wheeling, snowmobiling, as well as dirt and mountain biking. There are currently three surface leases in effect for outfitting and cattle grazing.
The property will be offered to the public in six separate parcels or can be purchased as a whole. Four of the tracts will be selling absolute and without a reserve price, meaning that they will be sold on September 28 wherever the auctioneer's gavel falls. The September 28 auction, held in cooperation by United Country – Mason Morse Ranch Company and United Country – Lippard Auctioneers, will take place at 9:30 a.m. in the Pueblo Marriott located at 110 W. 1st Street in Pueblo, Colo. Interested buyers can book a room by calling to 719-296-3088.
For more information on this unique Colorado opportunity, contact United Country – Mason & Morse Ranch Company at 877-207-9700 or visit http://www.Ranchland.com/fortune.
About United Country – Mason & Morse Ranch Company
"Ranches Farms Land Sales" – http://www.ranchland.com, affiliate of United Country Real Estate, is a leading provider of ranch, timber and farm marketing services across the western United States. Founded in 1998, in the Roaring Fork Valley of Colorado, the company specializes in the sale of premier ranches, farms and recreational land across the western United States. Combined, Mason & Morse Ranch & Ranch Company agents offer their clients more than 133 years of experience in ranch, farm and recreational real estate sales. Recently recognized by The Land Report as one of America's Top Brokerages. "Spring Edition - 2012 Featuring America's Top Brokerages."
Mason & Morse Ranch Company - affiliate of United Country - is separately owned and operated from Mason Morse Real Estate of Aspen, Colo.
About United Country
United Country Real Estate is the largest fully integrated network of conventional and auction real estate professionals in the United States and Central America. The company has been an innovator in real estate marketing since 1925. United Country supports nearly 550 offices across the U.S., Costa Rica, Panama and resort areas of Mexico, with a unique, comprehensive marketing program that includes one of the largest portfolios of property marketing websites (more than 3,000 separate sites and traffic of approximately 3 million visitors per month), multiple United Country real estate catalogs with national distribution , an extensive buyer database and national advertising of local properties that reaches more than 90 million homes per week. United Country has recently been recognized by Franchise Business Review, AllBusiness.com, The Land Report, Entrepreneur and The Wall Street Journal as one of the top U.S. real estate companies.