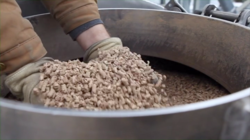 Creating new, permanent jobs and cutting back on heating costs for consumers right here in the Northeast.
Berlin, NH (PRWEB) August 06, 2012
Several Berlin homeowners will not be signing heating fuel contracts this month. Instead they will be burning locally produced wood pellets this winter in their Maine Energy System (MESys) AutoPellet boiler system thanks to the Model Neighborhood Project launched by the Northern Forest Center last November.
The Model Neighborhood Project's mission is to assist the region through the transition away from dependence on imported oil toward a local energy source that will create jobs and strengthen the forest economy. Switching to the locally produced renewable fuel cuts heating costs for homeowners by 40-50% while reducing carbon output by 86%.
The program's popularity grew rapidly in its first eight months with 16 completed installations to date. The Northern Forest Center anticipates completing 30 out of the 40 planned installations over the next three months just in time for heating season.
Wood pellets, a highly compressed wood product with low ash content, are a product of Northeast forests. Directing Manager of the Bethel, Maine based wood pellet boiler company Maine Energy Systems, Dr. Harry "Dutch" Dresser states, "Currently, $0.78 of every dollar spent on #2 heating oil leaves the regional economy. Heating with locally-produced wood pellets retains 100% of the money spent on pellets in the local and regional economy while creating new, permanent jobs and reducing heating costs for consumers right here in the Northeast."
To be eligible for the Model Neighborhood Project, homeowners must participate in the Berlin BetterBuildings energy efficiency program and undergo a home energy analysis to target a minimum 15% energy savings. Up to 40 project candidates are selected from Berlin BetterBuildings participants to receive direct subsidies from the Northern Forest Center. These subsidies cover up to 60% of the cost and installation of the MESys Autopellet. Additional funding is available through Berlin BetterBuilding's low-interest financing for additional related expenses.
Wood pellets are delivered bagless in bulk to homeowners' storage bins. Pellets are dispensed automatically from bins to a day hopper to be self-fed into the MESys AutoPellet. The MESys AutoPellet burns the pellets to heat the home through a central heating system along with domestic hot water. The homeowner controls temperature using their pre-existing thermostat. The automatic cleaning of the MESys AutoPellet compresses ash into self-contained compartment to be emptied two to four times annually.
The Northern Forest Center is still looking for remaining candidates. Visit Berlin BetterBuildings at http://www.betterbuildingsnh.com for more information on completing a home energy audit.
ABOUT NORTHERN FOREST CENTER
The Northern Forest Center advocates for the Northern Forest region and helps its communities benefit from forest-based economic and conservation initiatives. The Center and its subsidiary, Sustainable Forest Futures, work on specific projects within communities across the 30-million-acre Northern Forest, spanning northern New Hampshire, Vermont, Maine and New York. The Center fills a unique niche as the only organization coordinating regional strategy across the multiple interest areas of conservation, economic development and community development.
ABOUT MAINE ENERGY SYSTEMS
Headquartered in Bethel Maine, Maine Energy Systems primary mission is to support a transition to the use of renewable wood pellet fuel for heating of homes, businesses and municipalities. By offering stably priced carbon neutral source of heat, MESys keeps home and business owners comfortable with their heat and comfortable in the knowledge that they are being good stewards of our environment. This fuel transition not only lowers costs for users, it also helps retain and create jobs in the region while significantly reducing the region's carbon footprint.