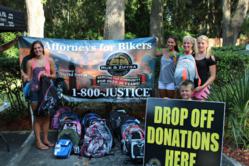 Port Orange, FL (PRWEB) August 01, 2012
Last weekend motorcycle run for foster children in three local counties netted the Children's Home Society of Florida a total of $3,266 and more than 100 donated backpacks.
The event, dubbed the Tri-County Back-to-School Run, was sponsored by the Port Orange-based law firm of Rue & Ziffra. It began at the law firm's parking lot on Dunlawton Avenue and included a police escort to its destination at the Original First Turn lounge on Ridgewood Avenue.
"Along with the money and backpacks, we also collected numerous school supplies like paper, pencils and erasers for foster children in Volusia, Flagler and Putnam counties," said David Sweat√, a partner in the firm and an avid motorcyclist who participated in the run.
About Rue & Ziffra: Founded by John D. Rue and Allan L. Ziffra, the personal-injury law firm of Rue & Ziffra has served the Central Florida community for more than 25 years. The firm's commitment to its profession and its clients has earned it a reputation as one of the top personal-injury law firms in Central Florida. Known for handling everything from automobile and motorcycle accidents to medical malpractice, wrongful death, and social security and disability cases, Rue & Ziffra has recovered millions of dollars for injured clients and their families. With a staff of nine attorneys, the firm maintains offices in Port Orange, DeLand and Palm Coast. For more information, visit http://www.rueziffra.com.
For more information about this release, please contact:
Allan L. Ziffra, President, Rue & Ziffra P.A., 386-788-7700 or aziffra(at)rueziffra.com
Jessica Eckelbarger, Marketing Director, Rue & Ziffra, 386-788-7700 or jessicae(at)rueziffra.com
Charlene Hager-Van Dyke, Larry Vershel Communications, 386-532-8862, 407-644-4142 or chagervandyke(at)yahoo.com