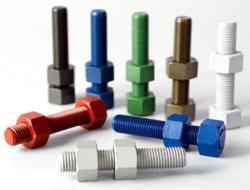 Houston, Texas (PRWEB) August 01, 2012
Threaded rod is a widely used and very versatile product. It is generally used in several industries, including chemical, electrical, construction, agricultural, maintenance and even home use. All-thread rod eliminates the need for such on-site resources as threading equipment, dies, and most importantly time. It is produced with threads rolled under high pressure to give greater strength and can be used with standard nuts and washers. Generally the rod can be cut with a metal cutting hack saw or a power band saw, and with clean saw cuts the nut will move easily over the threads. Rougher cutting devices may require chamfering to bevel the ends for ease of threading washers and nuts. AFT Fasteners will be providing threaded rod in a variety of lengths, as well as any "cut-to-request" specialty lengths that customers might require.
Grades of all-thread rod vary, and the most common grades include: ASTM A193 - B7 Alloy, Low Carbon Steel, Zinc Plated, Hot Dipped Galvanized, 18-8 Stainless Steel and 316 Stainless Steel. The most common is ASTM A193 B7 Studs and Rods. This grade has a tensile strength of 125,000 psi and is a heat treated alloy. It is generally used in applications where strength or high strength to weight ratio is required. This grade is a favorite for petroleum and oil field industries, and B7 is widely used in commercial plant applications and new construction projects for pipe and machinery installation and maintenance. The stainless steel grades of threaded rod are used when excellent corrosion resistance and strength are required. Used primarily in chemical, food, mechanical, agricultural and medical applications. AFT Fasteners is also pleased to announce that with their in-house plating and coating facility, Xylan and other popular threaded rod coatings will become even more affordable and accessible to customers. Product selections in other types of threaded rod fasteners such as anchor bolts, eye bolts, U bolts, J bolts and single end studs are also receiving focus.
AFT Fasteners is a fastener manufacturing, importing, distribution, plating and industrial services company "All-in-One", offering turn-key cost effective solutions to our customers. AFT also supplies high-quality standard, non-standard and specialty fasteners and hardware products. AFT serves customers with sales and distribution centers throughout the United States, and this allows them to provide expedited all-thread rod and other heavy duty fasteners. Please contact AFT's professional sales staff or call (877) 844-8595 for information on how AFT Fasteners can provide you with high quality B7 stud and threaded rod.