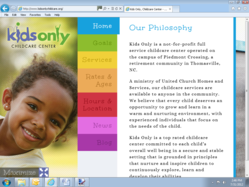 We want our website to become a resource for childcare services and information
Thomasville, NC (PRWEB) August 02, 2012
Kids Only Childcare Center in Thomasville, NC will launch a new website in August. The website will serve as a location where parents can learn more about the childcare center and gather valuable information from a blog offering parenting tips and resource information.
Kids Only Childcare Center provides a positive, educational, and nurturing environment for children ages birth to 10 years. Located on the campus of Piedmont Crossing, a continuing care retirement community, Kids Only offers a unique center for children intertwined with intergenerational activities from the seniors at the retirement community.
The childcare center's new website will help educate both current and prospective childcare-seeking parents and grandparents. Visitors to the website will notice that it is easy to read and organized. Kids Only Childcare Center wanted to make the website accessible for everyone, and this is reflected in the simple layout. Kids Only Childcare Center is especially pleased with the way the new website consolidates information about the center including its philosophy, goals, history, and services.
"We want our website to become the resource for childcare services and information," stated Sherry Conrad-Proctor, Director of Kids Only. "We will maintain an active blog to share various articles, activities, and tips for both parents and grandparents."
The new website is scheduled to debut in early August and can be found under the URL: http://www.kidsonlychildcare.org. By the end of August, visitors will also find a link to the childcare center's Facebook page on the new website, making it easy to stay connected and informed. Parents and others are encouraged to keep an eye out for the official debut of Kids Only Childcare Centers' new website.
About the company:
Kids Only is a not-for-profit full service childcare center operated on the campus of Piedmont Crossing, a retirement community in Thomasville, NC. A ministry of United Church Homes and Services, the childcare services are available to anyone in the community. Kids Only is the only intergenerational childcare program in Davidson County North Carolina. For more information, please visit the website at http://www.kidsonlychildcare.org.