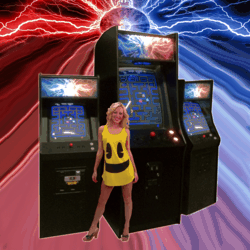 World's Largest Playable Pac-Man Machine
Chicago, IL (PRWEB) August 02, 2012
See the world's largest playable Pac-Man Machine at Wizard World Chicago Comic Com!
As iconic video games go, it's hard to top Pac-Man. In addition to serving as an introduction to gaming for millions, it became a nationwide phenomenon and true pop culture icon of the 1980s.And while the technology behind today's video games is light years ahead of the universe where Blinky, Pinky, Inky and Clyde once roamed, Pac-Man lives on.
At this month's Wizard World Chicago Comic Con, ARCADEDELUXE will be showing what it bills as the world's largest playable Pac-Man Machine, over seven feet tall. ARCADEDELUXE, one of the few companies still recreating the arcade experience for the commerical and home market, utilizes a design which is a combination of nostalgia with a touch of new wave.
See them at Booth #1702.
The "centerpiece attraction" in any gameroom, ARCADEDELUXE produces a nice effect for that gamer who demands that authentic play, while effortlessly accommodating the newest and coolest games available.Relive that the arcade experience of yester-year. ARCADEDELUXE also custom builds units to the specs of the customers. They will be showcasing some of their best designs. Join tens of thousands of fans as they converge at the Donald E. Stephen Convention Center (Rosemont) at Chicago Comic Con Wizard World Convention to celebrate the best in pop culture. Chicago Comic Con brings it all - Movies, Comics, Toys, Video Gaming, Games, TV, Graphic Novels, Horror, Wrestling, MMA, Original Art, Collectibles, Anime, Manga & More! Chicago Comic Con is brought to you by the group who produces the most widely attended Comic Con tour!