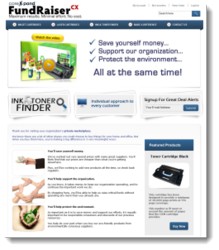 We've created a way for organizations to raise more money with less effort – Lindsey Tanner, CoreXpand Founder and CEO
Norcross, GA (PRWEB) August 02, 2012
CoreXpand has just released new technology that will help struggling non-profit organizations generate consistent, automatic revenue with minimal effort and zero expense.
With the obvious economic changes of the past few years, many non-profit organizations have been forced to find new ways to generate revenue.
The answer for a growing number of them has been to appeal to members and supporters by partnering with suppliers of products.
This type of partnership, often referred to as affinity marketing, allows supporters to help organizations even when their personal budgets don't allow a direct donation. The organization and the affinity marketing partner make this possible by offering products that they already buy. The affinity marketing supplier then gives a percentage back to the organization.
While there are still many misconceptions that have delayed its widespread use, the successes of those who participate in affinity marketing will undoubtedly lead to it becoming commonplace.
Paving the way for this inevitable fundraising future is CoreXpand. A consistent innovator of online business and e-commerce software, CoreXpand has created a new model of affinity marketing. Their combination of technology and strategy has become a model for organizations looking for consistent stream of revenue on auto-pilot.
"Our goal was to create a way for organizations to raise more money with less effort", said Lindsey Tanner, Founder and CEO of CoreXpand. "We've not only done that, we've also created something that saves the organization itself money, while helping to protect the environment at the same time."
The unique technology behind CoreXpand's Fundraiser CX, allows organizations to have a greater sense of ownership over conventional affinity marketing programs. Starting with a private online marketplace that is branded to the organization, members and supporters can invite their circle of family and friends to save money on products that they are likely already buying.
This allows supporters to not only choose from more environmentally friendly and, in most cases, more affordable products, it allows them to support their organization without adding to their expenses.
The bottom line potential catches many organization directors by surprise. Typical non-profit organizations can generate significant income from just a single category of product within their marketplace.
Of course, this method will never fully replace the need for fundraising as it applies to big ticket items such as new buildings or other special projects. But it will allow non-profit organizations to generate significant annual revenue with minimal effort and zero expense.
About CoreXpand
For over 12 years, CoreXpand has improved the way buyers and sellers connect online. Thousands of businesses and millions of users have bought and sold billions in products and services through CoreXpand's innovative solutions.
To see the fundraising solution referenced in this article, or any type of e-commerce/e-business need, contact CoreXpand for a "no hassle… no pressure… just answers" conversation.