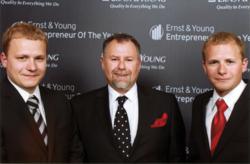 Blooming Prairie, MN (PRWEB) August 01, 2012
On April 25, 2012 Ernst & Young LLP announced the finalists for the Ernst & Young Entrepreneur Of The Year® 2012 Award in the Upper Midwest. Craig Kruckeberg, Minimizer's Chief Visionary, was honored to be included on the list of finalists.
"I really need to give credit to our entire entrepreneurial leadership team at Minimizer," expressed Craig, "I made the list as a result of the success we've experienced over the past several years."
Being included in the list of finalists for the Ernst & Young Entrepreneur Of The Year® Award is no small accomplishment. The award, now in its 26th year, has expanded to recognize business leaders in more than 140 cities in more than 50 countries throughout the world.
The program recognizes entrepreneurs who demonstrate excellence and extraordinary success in such areas as innovation, financial performance and personal commitment to their businesses and communities. Selection of these elite business leaders occurs from a strong pool of nominations by a panel of independent judges. The Upper Midwest region includes companies based in Minnesota, North Dakota, South Dakota and Wisconsin.
"Ernst & Young has honored outstanding entrepreneurs like this year's crop of finalists for the past 26 years," said Bill Miller, Ernst & Young LLP Entrepreneur Of The Year Program Director for Minnesota and the Dakotas. "These business leaders have accomplished so much and contributed a tremendous amount to the community."
Minimizer has experienced significant growth over the past decade under the inspired leadership of Craig Kruckeberg and other top management. The company has expanded its manufacturing capacity, invested in research and development, and bolstered its sales and administrative team with a new headquarters building.
"The Minimizer team from top to bottom has worked really hard in the past decade to make a lot of new things happen for our Company," Craig said recently during the awards banquet. "And it really is from top to bottom and both internally and externally, we've assembled a team that has provided the propulsion to make us an industry-leading company. And it's one thing to work this hard and see the results from within, it's another thing to be recognized from outside the company and for that we are honored by Ernst & Young."
Minimizer fenders will enhance the performance of all makes and models of over the road trucks, construction vehicles, or agriculture equipment. Enhance and protect your vehicle with Minimizer products. The toughness is unmatched as seen on this Minimizer promotional video entitled "Tested & Tortured".
To order Minimizer poly fenders find a distributor by clicking here. Is Minimizer poly fenders and related products are available through exclusive Minimizer distributors.
For more information or to contact a dealer, call us at (800) 248-3855 or visit our website or email us at info(at)minimizer(dot)com.
About Minimizer
Headquartered in Blooming Prairie, Minn., Minimizer manufactures poly truck fenders, poly toolboxes, customized mud flaps, and bracket kits. Family owned and operated for nearly three generations, Minimizer parent company Spray Control Systems, Inc., was founded in 1983. Minimizer aims to provide products tough enough to please tough people in a tough industry. For more information call (800) 248-3855 or visit http://www.minimizer.com/.