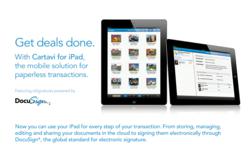 With the addition of the DocuSign integration with the Cartavi iPad app, a real estate professional can now manage the full lifecycle of a document from their iPad.
Naperville, IL (PRWEB) August 01, 2012
Cartavi™ (http://www.cartavi.com), the leading mobile document-management platform for the real estate industry, today announced the release of an update to its app for the Apple® iPad® that includes integration with DocuSign®, the global standard for eSignature®.
This update extends Cartavi's existing integration with DocuSign on the web, helping customers now close deals on their iPad to become truly mobile and achieve the paperless office.
"We're very excited to follow up our successful DocuSign integration on the web with our iPad app integration. Since we released our integration with DocuSign on the web in January, we've experienced more than 50% month-over-month growth in the number of eSignature transactions completed within Cartavi," said Glenn Shimkus, CEO of Cartavi. "Because one out of every five subscribers accesses Cartavi via our iPad app, we knew integration with DocuSign on the iPad was the next logical step in providing increased value to our subscribers. It allows real estate professionals to write contracts and deliver them for electronic signature without wasting time or paper, no matter where they are located."
Cartavi's cloud-based solution lets real estate professionals securely manage and share documents with everyone involved in a transaction using any computer, iPad, iPhone, Android tablet, or Android phone. DocuSign was originally available from within Cartavi's user-friendly document management platform on the web, allowing Cartavi users to send real estate documents for electronic signature with a single click. With the addition of the DocuSign integration with the Cartavi iPad app, a real estate professional can now manage the full lifecycle of a document from their iPad.
A real estate agent can obtain a listing agreement template from Cartavi and open it into an app such as PDF Expert or iAnnotate to fill in the document for their seller. The agent can then save the completed agreement back into Cartavi and send the document out via DocuSign, all from the iPad.
"Cartavi's end-to-end solution for managing the full lifecycle of real estate documents combined with the speed, security, and convenience of DocuSign makes it easy for real estate professionals to close more transactions when they are on the go," said Tom Gonser, chief strategy officer at DocuSign. "Cartavi is a real innovator in the mobile market."
"The GoodLife Team embraces the iPad and creates a completely mobile solution for buyers, sellers, and agents," says Jack Miller, the CTO of The GoodLife Team. "Using Cartavi's iPad app in conjunction with DocuSign, we can guide our customers through the entire experience of buying or selling a property without having to shuffle any papers or be tied to the office."
Current DocuSign customers need only enter their DocuSign credentials once to begin using DocuSign directly within Cartavi on the web or their iPad. No additional setup is required.
Real estate professionals interested in Cartavi's integration with DocuSign should visit Cartavi.com.
About Cartavi
Cartavi is a cloud-based document-sharing solution designed specifically for real estate professionals. Also available as a mobile app for Apple and Android devices, it allows everyone involved in a real estate transaction to securely manage and share documents from any computer, tablet, or smartphone. Founded in 2009, Cartavi is based in Naperville, Illinois. For more information, visit cartavi.com. Visit the Cartavi.com/blog and follow Cartavi on Twitter, Facebook, and LinkedIn.
About DocuSign Inc.
DocuSign® is the global standard for eSignature. DocuSign helps customers decrease transaction times, reduce costs, and enhance customer satisfaction with the easiest, fastest, most secure global network for sending, signing, tracking, and storing documents in the cloud. For more information, visit DocuSign.com or call 800-098-8113. Visit the DocuSign blog at DocuSign.com/blog and follow DocuSign on Twitter, LinkedIn, and Facebook.
About The GoodLife Team
The GoodLife Team is an Austin, Texas real estate brokerage focused on delivering industry-leading customer care through innovative technologies and an award-winning team of REALTORS®. Named the Most Innovative Brokerage of 2010 by Inman News, The GoodLife Team provides customers with useful online tools, including Lifestyle search, listing syndication, text and instant messaging, video libraries, and interactive mapping to make finding, buying and selling real estate as simple and fast as possible. To learn more about The GoodLife Team, visit GoodLifeTeam.com.