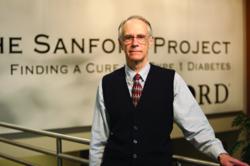 This is a significant step in our research of type 1 diabetes.
Sioux Falls, SD (PRWEB) August 01, 2012
Sanford Project researchers have reached a critical milestone in a clinical trial testing a combination of two medications to determine if the drugs can help patients with type 1 diabetes (T1D) keep their blood glucose levels under control with less or no insulin. The full number of patients needed to complete this first trial, termed Restore Pancreatic Insulin Response in type 1 diabetes (REPAIR-T1D), has been reached.
In REPAIR-T1D, two FDA-approved drugs, sitagliptin and lansoprazole, are evaluated for their potential clinical benefits in T1D patients. The trial needed 54 participants to complete a 24 month study. Thirty-six patients received test medications and 18 received placebos, given as capsules daily for 12 months, followed by a 12-month follow-up. Trial participants are all between ages 11-45 and began the study within six months of diagnosis. In addition, this study is masked, meaning the patient, study doctor and study coordinator are blinded to what the patient is taking. The clinical study is being led by newly appointed Sanford Project Broin Chair Alex Rabinovitch, MD.
"This is a significant step in our research of type 1 diabetes," says Rabinovitch, MD, senior scientist. "While it will still be months before we can release research results, we are encouraged by the success of the patient enrollment in this trial."
Sanford Health's network and partnerships with other large health systems made it possible to include what is often a challenging clinical trial demographic – recently diagnosed children. A majority of the patients enrolled in the trial came from the Sanford Health system in Sioux Falls, SD and Fargo, ND with patients also coming from Children's Hospital and Clinics of Minnesota in St. Paul, MN and Rady Children's Hospital in San Diego, CA. The number of enrollees is nearly equally split between males and females with nearly all of the participants under the age of 18 (only 14 are over 18).
Using a combination therapy of sitagliptin and lansoprazole, Dr. Rabinovitch's former research team in Canada regenerated successfully pancreatic beta cells in mice with type 1 diabetes. Based on these research studies, he developed a placebo-controlled clinical trial, REPAIR-T1D.
"We are incredibly proud of Dr. Rabinovitch and the entire Sanford Project team for reaching this key milestone," said Gene Hoyme, MD, Sanford Research President. "While this is a significant achievement, there is still work to do in our quest to cure type 1 diabetes. Plans are already underway to launch our next Sanford Project clinical trial later this year."
The Sanford Project, one of four initiatives made possible through Denny Sanford's transformational $400 million gift, has one goal: to research and cure type 1 (juvenile) diabetes. For more information about The Sanford Project visit http://www.sanfordproject.org.
About Type 1 Diabetes
Type 1 diabetes currently affects about one million people in the United States. It is a disease in which the body's immune system attacks and destroys insulin-producing islet beta cells of the pancreas. It often strikes during childhood, makes patients dependent on insulin for life and carries the constant threat of devastating complications.
About Sanford Research
Sanford Research is a non-profit research organization formed between Sanford Health and the University of South Dakota. Sanford Health is an integrated health system headquartered in Fargo, ND and Sioux Falls, SD and represents the largest, rural, not-for-profit healthcare system in the nation with a presence in 111 communities, eight states and three countries. In 2007, a transformational gift of $400 million by Denny Sanford provided for an expansion of children's and research initiatives, specifically finding a cure for type 1 diabetes, and has given Sanford Research significant momentum in its goal of becoming one of the premiere research institutions in the United States and the world. Most recently, a subsequent gift of $100 million by Mr. Sanford has paved the way to establish Edith Sanford Breast Cancer Research.
With a team of more than 200 researchers, Sanford Research comprises several research centers, including Children's Health Research, Edith Sanford Breast Cancer, Cancer Biology, Cardiovascular Health, Center for Health Outcomes and Prevention, and the National Institute for Athletic Health and Performance (NIAHP).
###