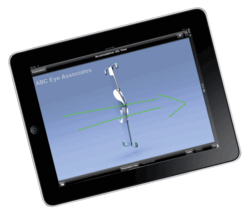 "According to a recent survey of cataract patients in the U.S., 20-30% of the market is willing to pay for premium lenses when properly educated about them." - Jeff Peres, Eyemaginations President and CEO
(PRWEB) August 01, 2012
Eyemaginations, leader in innovative solutions for patient education, is pleased to announce the launch of a new eyecare app for the iPad. The new app, known as the LUMA IOL Simulator, features state-of-the-art, on-screen drawing functionality and gives the user the ability to explain cataracts and cataract surgery. The new app also enables the physician to demonstrate the visual benefits and limitations of a broad selection of IOL options, including conventional, multi-focal, toric and accommodating lenses. In addition, with Apple's Airplay, users of the new app are able to share the iPad screen images wirelessly to a television when used with AppleTV.
Offering the most innovative form of patient education and marketing software available, Eyemaginations continues to help doctors present complex information to their patients in an engaging, easy-to-understand manner.
As with the other seven LUMA eyecare apps available from Eyemaginations, the LUMA IOL Simulator was designed to help doctors be innovative, efficient and effective. The full suite of apps is perfect in any busy eye care practice. The apps serve to engage and educate otherwise idle patients via iPad - a growing and overwhelming preference among healthcare professionals.
"According to a recent survey of cataract patients in the U.S., 20-30% of the market is willing to pay for premium lenses when properly educated about them," said Jeff Peres, president and CEO of Eyemaginations. "The new LUMA IOL Simulator provides a new platform for doctors to educate patients more effectively on their IOL options and increase conversion rates for their practices."
The LUMA IOL Simulator iPad App is available as a free download in the Apple iTunes Store for all LUMA customers. Interested parties can contact Eyemaginations directly for more information by calling 877-321-5481 or via email at info(at)eyemaginations(dot)com.
About Eyemaginations
Eyemaginations, Inc. is a health care media company focused on solutions that support professionals, patients and corporations in communicating and understanding complex topics. The company's in-depth experience with animation, design and software has enabled Eyemaginations to create integrated systems that provide clear and concise education solutions. Eyemaginations has a portfolio of products that are focused on eyecare, ENT, audiology and facial aesthetics. Eyemaginations may be reached by phone at 877-321-5481, email at info(at)eyemaginations(dot)com or online at http://www.eyemaginations.com.