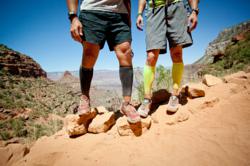 We originally brought in just a few of the Zensah® compression leg sleeves and have been DELIGHTED with the fast and repeated sell through.
(PRWEB) August 01, 2012
Zensah®, the leading brand of compression apparel, focuses on developing products with seamless designs and innovative compression technology. Their compression apparel has been adopted by athletes and outdoor sport enthusiasts around the world. Their understanding of an athletes body and their use of seamless technology has allowed Zensah® to develop the leading compression leg sleeves for performance and recovery. From running a marathon to hiking the mountains, athletes of all levels wear Zensah® Compression Apparel.
Outdoor Retailer Summer Market hosts one of the biggest outdoor sports industry gatherings in the world, bringing retailers and brands centered on the active outdoor lifestyle. Zensah® will be located at booth #39170 at the Outdoor Retailer Summer Market, which will take place August 2-5th at the Salt Palace Convention Center in Salt Lake City.
Zensah® will showcase their athletic compression apparel including their top selling leg sleeves, ankle support, and compression socks. Active outdoor sports like running, stand up paddle boarding and hiking alike, can have an effect on the body, causing muscle fatigue, soreness, and even injury. Compression apparel counteracts these effects by supporting the muscles to help alleviate shin splints, leg fatigue and improve circulation and blood flow.
Christine Platt from Nat's Outdoor Sports says, "We originally brought in just a few of the Zensah® compression leg sleeves and have been DELIGHTED with the fast and repeated sell through. A great product for many aspects of our business: athletic, travel, outdoor. This product brings a lot of dollars per square foot!"
Zensah®'s Compression Leg Sleeves can be worn in the water by stand up paddle boarders (SUP) to stay out longer without legs tiring or falling asleep. The Zensah® leg sleeves also protect legs from plants and natural debris that can be found on the trail or in the mountains while trail running and hiking. Zensah® offers their leg sleeves in over 18 different colors and designs. Their high visibility sleeves are unique so athletes can stand out and be seen on any terrain, whether they are on the trail or in the water.
Be sure to stop by the Zensah® booth and see their compression leg sleeves along with their other popular compression products, including compression socks and seamless sports bra.
About Zensah®: Zensah®, a Miami-based company, develops compression apparel that incorporates seamless designs and advanced compression technology. Zensah® compression apparel is used during and after training and competition to improve performance and allow for faster recovery. For more information about Zensah® products, please visit http://www.zensah.com.
About Outdoor Retailer Summer Market 2012: The Outdoor Retailer Summer Market will be located in Salt Lake City, inviting outdoor sports industry retailers and media to experience the latest products for the active outdoor lifestyle.
Parker Robinson
marketing(at)zensah(dot)com
ZENSAH COMPRESSION APPAREL
(305) 935-4619