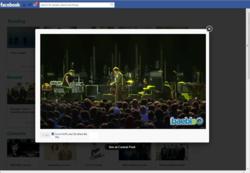 "We think Facebook has a shortage of free quality original video applications available inside its system"
New York, NY (PRWEB) August 01, 2012
Baeblemusic is pleased to announce the launch of an innovative HTML 5 video app for the Facebook platform. This free app is built on Baeblemusic's extensive, exclusive, and curated collection of original concert and session video programming, as well as its ever growing catalog of artist submitted music videos. With this new application music fans can devour, share and interact with their favorite artists' videos inside the polished, Facebook architecture.
This unique Facebook app is organized by several categories, including Baeble's rich collection of "Concert", "Session", "Interview" and "Music Video" programming. Video views from across the Baeblemusic Web Platform (Apps and Website) help populate the dynamic "Trending" category. "New" refreshes daily as videos are added to the Baeble library.
"We think Facebook has a shortage of free quality original video applications available inside its system" says CEO David Moffly. "The focus on video inside Facebook has largely been geared towards user-generated content in the vein of applications like Instagram. Our intention is to bring quality, professionally produced entertainment to Facebook's massive audience of passionate music fans."
Baeblemusic focuses on an independently curated view of music programming of compelling artists you need to know. Unlike Vevo, who is beholden to the major labels, Baeblemusic carefully selects the artists featured on its video platform, focusing on the "indie" culture and music we genuinely enjoy, from all levels of notoriety. This focus spans from the newest acts breaking at SXSW, to artists on the mainstream radar like Passion Pit and Mumford and Sons.
About Baeblemusic:
Baeblemusic is an entertainment brand focused on the creation and distribution of high quality music programming on channels across the spectrum of emerging and established entertainment platforms. These channels include its own channels on the web, Google TV, Roku among others. Baeblemusic also reaches music fans via its' iPhone, Android, Chrome and Facebook Apps. Baeblemusic is also a leading programmer on Stingray Digital's Concert TV VOD Channel reaching 38 million cable homes in the US and program's MSG's Networks Indie NYC (Friday nights at 11 pm). Baeblemusic's team selects artists that are making an impact on the music scene and creates a concert or intimate session of this artist performing and airs it in full exclusively on its own channels. For more information go to http://www.baeblemusic.com