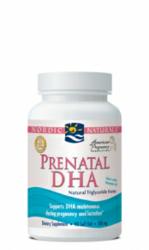 Those who were breastfed while their mothers took DHA scored on average three points above the population mean of 100 on the IQ test, whereas those who were not breastfed scored about three points below the population mean
New York, NY (PRWEB) August 02, 2012
A recent lab study has shown that babies who have a proper intake of the brain enhancing vitamin, "DHA", have higher intelligence quotients (or IQ's). Mothers who breastfeed their babies and are taking 1 serving a day of DHA like those found in Nordic Naturals Prenatal DHA, see on average, a 6 to 10 point IQ increase then non breastfed babies.
"Those who were breastfed while their mothers took DHA scored on average three points above the population mean of 100 on the IQ test, whereas those who were not breastfed scored about three points below the population mean," co-author Terrie Moffitt said.
"An IQ of 100 is defined as the population mean, or the hypothetical average of all IQ scores. Because of the relative nature of IQ scores, a potentially more accurate comparison is to say that breastfed children scored approximately six points higher on IQ tests than formula-fed children." - Terrie Moffitt, the researcher behind the study.
The study, which can be found here is great evidence that DHA has positive effects on a developing babies brain.
Another study done by the American Academy of Pediatrics did a similar study and found similar results.
"Children who were born to mothers who had taken cod liver oil (n = 48) during pregnancy and lactation scored higher on the Mental Processing Composite of the K-ABC at 4 years of age as compared with children whose mothers had taken corn oil (n = 36; 106.4 [7.4] vs 102.3 [11.3]). The Mental Processing Composite score correlated significantly with head circumference at birth (r = 0.23), but no relation was found with birth weight or gestational length." You can read the full study here.
DHA, or "Docosahexaenoic acid" is actually a fat that comes from cold water oceanic fish (hard to think that a fat can be so good for you). These fats greatly help with brain development, vision improvement, and overall health.
According to livestrong.com, a person with a higher iq will have better debating skills, better cognitive skills, better critical thinking skills, and a lower rate of mind degenerating diseases like Alzheimers. Truly making these babies "super baby genius's". All this just for taking a few pills during pregnancy and while the child is breastfeeding.
Nordic Naturals has been doing its best over the past few years to get the word out about DHA, and its enhancing qualities.
"There is no better feeling than selling a product that actually helps people. I don't feel fully satisfied just seeing our small business sell products, what really excites is when I feel like I am helping a new mother take care of her children. We just need to make it our mission to spread the word about the health benefits of vitamins like the Nordic Naturals line of vitamins." - Matt Adamo, team member at Shopcle.com
To see ShopCLE's full line of nordic naturals products, click here.