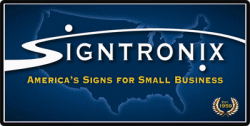 "In the jungle that marks today's retail environment, nothing is as important as visibility," says Ries.
Torrance, CA (PRWEB) August 01, 2012
Signtronix, America's premier sign company, has done in-depth research on the elements that make a truly outstanding and effective sign. For decades, the company has known that a graphic or picture is the most important element of an effective business sign, or any other marketing display for that matter. Recently published research findings in the latest issue of Marketing Management Magazine validate what the company has known for many years: it takes a visual hammer to effectively get people's attention.
These research findings were included in the article, "A Picture is Worth..." by Laura Ries, which details how the verbal and the visual sides of our brains process information. The left hemisphere processes verbal information, while the right hemisphere processes visual information. Afterwards, the two sides chat about what they saw, so to speak, and the pictures or illustrations dominate this conversation in the brain. "The visual always dominates the verbal" Ries notes in the article. "Visuals have emotional impact that words do not."
"In the jungle that marks today's retail environment, nothing is as important as visibility," says Ries. "Yet you find very few visual hammers among retail chains, most of which rely on verbal signs."
All this research points to what Signtronix knew all along: graphics pull customers into a business. Signtronix has spoken for years about the importance of graphics or pictures on customers' signs rather than just words, and after years of experience they've developed a system for designing and building the most effective signs on the market. To learn more, visit Signtronix online at http://www.signtronix.com or call them at (800)729-4853.
About Signtronix:
Signtronix is America's premier sign company, helping small and growing businesses and franchises achieve their dreams with critical exposure to the passing public - and potential customers. In over 50 years of building signs, the company has helped more than half a million small businesses grow. Signtronix builds high quality, highly visible, low-cost signs to give the small business owners of America a much-needed marketing and advertising tool to help grow their business.