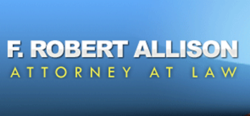 "...focus on your recovery while we focus on your claim."
Salem, MA (PRWEB) August 02, 2012
F. Robert Allison, a law firm that provides legal services to individuals with all aspects of personal injury claims, has just announced the launch of its new website, http://www.frobertallison.com.
With the updated website, current and potential clients are provided with much more content, including resourceful information for those seeking a personal injury attorney in regards to: dog bites and dog attacks, motor vehicle accident claims, wrongful death claims, medical malpractice, slip and fall claims, product liability and defects, and pedestrian accidents.
"The goal of this website is to be a helpful resource and provide information on the steps that should be taken when you are a victim of personal injury," said Allison. "When you're injured because of the carelessness of others, not only are you suffering from debilitating pain, but you're worrying about your work and paying your medical bills; it can be very overwhelming at times."
F. Robert Allison, Attorney at Law also launched a blog to provide reference guides on the various areas that are practiced, with weekly updates on safety resources and helpful tips on how to prevent certain accidents.
Also included in the website are case results and customer testimonials, outlining individual cases, and their results. Visitors to the site can also download free consumer reports, as well as join a monthly newsletter by way of email or direct mail. By entering basic information, potential clients can also receive a free consultation with Allison.
As a personal injury attorney in Massachusetts, F. Robert Allison, Attorney at Law is a member of the Massachusetts Bar Association, and the Massachusetts Academy of Trial Attorneys, and has a BBB rating of A+ with the Better Business Bureau.
"We will represent you in a manner that allows you to focus on your recovery while we focus on your claim," said Allison. "Through the entire process, we will keep you informed, return your calls promptly and treat you with respect, integrity and honesty."