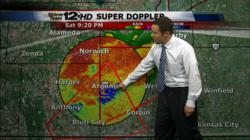 Madison, WI (PRWEB) August 01, 2012
Weather Central LP, maker of the most viewed weather system in the world, announced today that broadcaster KWCH of Wichita, Kansas is using the latest technology in the ESP:LIVE® severe weather system to give viewers unprecedented detail of this year's severe weather. The station is taking advantage of ESP:LIVE features such as integrated dual polarization radar display (Dual-Pol) that provides improved precipitation type detection, rainfall estimates, and overall radar data quality.
"The surest way of telling who has the best severe weather coverage is when night falls, quality video from the chasers disappears, and all that is left on air is a meteorologist and the green screen," said KWCH Meteorologist Ross Janssen. "People rely on what we can tell them from the radar. With Weather Central ESP:LIVE we can do more from directly within the green screen, so the storytelling is dynamic and keeps pace with rapidly changing information. As the only local station with Dual Pol radar display, we are best equipped to show viewers credible information as to what is happening inside the debris ball of a tornado so they can see the full extent of the storm's impact."
The system was put to the test on the night of April 14, 2012 when a strong tornado moved through Wichita. KWCH remained on the air covering the storm for 26 hours, using ESP:LIVE to cover the storm and provide its viewers with accurate storm assessments while other news outlets had to wait for daylight.
ESP:LIVE gives broadcasters the tools, accuracy and compelling look needed to drive ratings and meet their commitment to their viewers. Pinpoint-accurate local mapping, the most advanced storm tracking algorithms, interactive data display capability, and a suite of exclusive tools enable meteorologists to keep their viewers informed. Dual-Pol radar provides precise display of damaging hail, debris in tornadoes, improved flash flood warnings, and more accurate identification of winter precipitation, and enables meteorologists to better inform and alert their viewers when severe weather strikes. More information about Dual-Pol radar can be found at: http://wxcblog.wordpress.com/
For a complete look at Weather Central's solutions visit http://www.wxc.com.
About Weather Central, LP Weather Central, LP, founded in 1974 by broadcasters and meteorologists based in Madison, Wisconsin, is the leading provider of professional on‐air, online, print, mobile and enterprise weather solutions and forecasting in North America and to major customers worldwide. Utilizing the Company's dynamic weather graphics, precise forecast models and data, and patented technology, more than 1000 partners and hundreds of millions of consumers worldwide benefit from Weather Central's attention to weather presentation, detail and insight.
© 2012 Weather Central, LP, Madison, Wis. All rights reserved. Product specifications and availability are subject to change without notice. Weather Central LP, Fusion, Fusion Studio, :LIVE, GENESIS:LIVE, 3D:LIVE, ESP:LIVE, MagicTRAK, LiveLine GENESIS, A.D.O.N.I.S. MicroCast, A.D.O.N.I.S. FutureCast, StormSentinel DV, WxWarn2, ScreenWRITER, SportsWRITER, SimulCAST, X‐Vision, Storm Vitals, TelePath, RainVision, SnowVision, FunnelPATH, CellPATH, HailZONE, GustZONE, MessoPATH, Always‐On Training, Instant Mapping and WxPoint are either registered trademarks or trademarks of Weather Central LP. All other trademarks contained herein are the property of their respective owners.