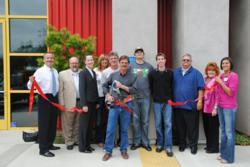 San Luis Obispo, CA (PRWEB) August 01, 2012
The SLO Chamber of Commerce helped welcome the digital color printing company Docucopies.com to their new facility last month with an official ribbon-cutting outside their building.
Though the new location has been operational since April, the event was delayed until mid-June. The management also intentionally downplayed the publicity aspect of the event, largely because the new facility is strictly a production house—they do not work with customers directly or take walk-in business.
"We take the orders that are sent our way, print, cut, bind and finish them, and ship them out," says General Manager Mike Lindahl.
The company's nerve center is in Hudson, Wisc., just a short drive east of St. Paul, Minn. This is where the majority of work is still done, including production, customer service, IT maintenance, and marketing. All business is conducted through their state-of-the-art automated website.
"Opening a center on California was a natural step since it's been the biggest state for sales for several years," says Marketing Director and Vice President Jeff Corbo. "Now most of California has free one-day shipping instead of the four days it used to take, which we expect will attract a lot of new customers in the coming months."
So far things seem to be on track, as the company surpassed their expectations for growth and production at the new facility in May and June.
For more information on Docucopies.com and their cheap color printing andcopying services, visit them online at http://www.Docucopies.com.