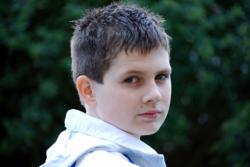 Hersey, MI (PRWEB) August 01, 2012
For parents who are worried that their teenager is struggling with something or is troubled but don't have a clue how to help, they are not alone. Today's teenagers are exposed to much more than they were 25 years ago and parenting them is twice as challenging. Plus there's no manual!
Melissa Patten, Family Counseling Supervisor for Eagle Village's Intervention Services Program commented, "Today we live in a world that moves faster than anyone could have ever thought was possible. Our society not only has access to all forms of information, good and bad, available at the click of a button, but we also carry it in our pockets. We see it at school or work and are bombarded with it on TV. Violence, inappropriate use of social networking, pornography, drugs, and misinformation are always within the reach of our children."
Parents need to be aware of their pre-teen or teenager's behavioral habits, emotional norms and who their kids communicate with to remain ahead of the game. Slight changes are to be expected throughout the teen years but even relatively minor changes can signal a problem. Patten shared, "Parental insight and a quick response are critical to the successful intervention of a young person in trouble. It is critical that parents, grandparents, caregivers, and loved ones be mindful of a teenager's choices and respond with early intervention."
Some of the key warning signs to look for include:

Behaviors that are distinctly different than what they previously did (sleeping too much or too little, aggression, depression, grades slipping, forgetfulness, spending all time with friends or completely avoiding friends and spending too much time alone).
Refusing to listen to anything a parent says or requests.
Behaviors that put a teen or the rest of the family in danger or high risk causing constant anxiety and fear in the home.
Becoming increasingly disrespectful, dishonest and openly displays rebellion, not caring about consequences. Ignoring boundaries set.
Treatment of people, pets or belongings by your teen are threatening or out of control.
Appears to feel that their needs are more important and disregards the feelings, needs or possessions of others.
Counseling has proven to be of little help so far.
Intentional separation from the family and showing hatred for the family when made to comply.
Suspected alcohol or other substance usage.
Threats of suicide, active self-harming, excessive risk-taking or sexual promiscuity.
One final thing for parents to remember is that seeking out help for a struggling teenager is not a sign of weakness or failure as a parent. It simply means they want the best for their child and are willing to look everywhere until they find what works. And if they have made mistakes as a parent, again, they aren't the only one. Part of getting help for a child involves some soul-searching for a parent and maybe a few changes to how they communicate and interact with their teen.
Eagle Village is a co-ed facility excelling in Intervention Services, Residential Treatment, Foster Care and Adoption services, as well as Summer and Family Camps. Located in Hersey, MI, Eagle Village provides programs that directly improve the health and well-being of children and families through experiential learning, spiritual enrichment and counseling. For more information about Eagle Village, visit their website at http://www.eaglevillage.org