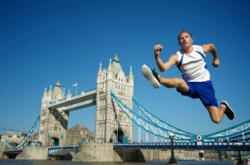 Those businesses who have utilized SEO (Search Engine Optimisation) and secured a top spot on Google will be enjoying up to 4 times more traffic than their nearest rival.
(PRWEB) August 03, 2012
As London sees the arrival of the Olympics, local businesses are battling for custom from the extra tourism the games bring. It is expected that there will be around 260,000 extra visitors in London for the 2012 Olympic Games, compared to the same period last year, meaning a total of around 570,000 total visitors. Many of these tourists will be leaving the guidebooks at home, and opting instead to use the internet to search for everything they need to know about the capital, be it where to eat, where to visit, where to shop. According to Google Insights, sharp rises in searches for phrases such as 'London restaurants Olympic Park', 'Olympic shopping' and 'London cinemas' have been seen since visitors began flocking to the city for the games last week. Those businesses who rank highly in such searches will be seeing extra traffic to their sites, and hopefully turning that into extra custom. James Reynolds, CEO of SEO Services Company SEO Sherpa and an internet marketer, claimed, "Right now in London search engine usage is at an all time high with tourists searching for places to eat, drink and stay. Those businesses who have utilized SEO (Search Engine Optimisation) and secured a top spot on Google will be enjoying up to 4 times more traffic than their nearest rival. Those businesses are set to experience unprecedented profit."
More so than ever before, mobile technology is allowing Olympic tourists to search on the go, operating a quick Google search to find somewhere to eat in the area they have found themselves in, or for ideas for a last minute evening out. Mobile internet usage has increased exponentially in the last few years, thanks to cheaper and easier to use technology. In the UK for instance, according to the Office for National Statistics, 45% of internet users accessed mobile the internet through their phone in 2011, a staggering increase from 31% in 2010. This is likely to increase much further. Mobile technology also means they are accessing information about London and the Olympics in a way that far differs from previous games, when they might have relied on guidebooks and printed tourist literature. Many businesses now realise there has never been a greater need for a quality website that is easily picked up by search engines, and have brought in the assistance of an SEO service agency to ensure their site is picked up by Google and other search engines.
For those that are worried about getting left behind, there are strategies for businesses hoping to attract extra customers from a influx of tourists or visitors for special events, such as conferences, sporting or cultural events in their own town or city. James Reynolds offers this advice, "Many people over complicate SEO and get caught up in the latest tricks and tactics to beat the search engines at their own game. When you understand what Google wants, and thats to place at the top of the rankings the most relevant, popular and valuable results, the latest tactics really don't matter. Place valuable content on your site relating to the keyphrases you want to rank for and then promote that content with more quality content placed on other peoples websites."
James, the CEO of SEO service company 'SEO Sherpa', added, "Contrary to popular belief you should not 'stuff' your site full of key phrases in attempt to make your site more relevant to the search engines. Google (as well as Yahoo and Bing) will in fact penalize you for over optimization if you try to game them with tactics like this. If you include one instance of the key phrases you want to rank for in the title of your website and then create valuable content on your site relating to those phrases you will be off to a good start."
About James Reynolds
James Reynolds is the CEO of Incredible Incorporated, a group of companies which include SEO Sherpa (http://www.seosherpa.com), Web Reactivators, Incredible Fan Pages, Breakthrough HQ and Unlimited Power Online. He is an expert in helping entrepreneurs drive sales and increase the overall responsiveness and profitability of their online marketing. James has earned great respect in the field and is an experienced internet marketing speaker appearing at events worldwide and often in the media in Dubai, where he resides.