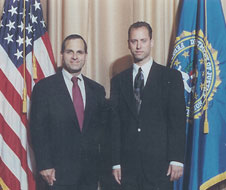 Drug companies put their corporate profits over people's lives and they need to be held accountable
New York, NY (PRWEB) August 02, 2012
In December 2011 the FDA released an alert that it was investigating Pradaxa bleeding incidents which may lead to serious injury or death. On June 6th, 2012, The Philadelphia Inquirer reported that after reviewing the MedWatch data about drug fatalities, Pradaxa was the leading drug responsible for internal bleeding deaths.
Blau, Brown & Leonard, LLC, has been investigating Pradaxa injuries and currently represents individauls and estates of individuals who have passed from taking Pradaxa. The site http://www.pradaxalawcenter.com/ is dedicating to discussing the ongoing litigation. The firm offers free consultations 24/7 at (800) 9100-LAW and there is no fee unless they win your case.
Jason T. Brown, a former FBI Agent and trial attorney at Blau, Brown & Leonard, LLC stated, "It's a shame that once again the drug companies put their corporate profits over people's lives and they need to be held accountable." At Blau, Brown & Leonard, LLC, the attorneys will discuss with you directly your rights and whether they can help you or your family perservere after sustaining a Pradaxa bleeding incident.