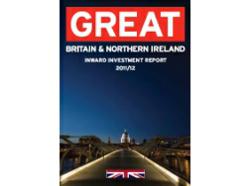 "Despite a difficult international economic climate, more jobs have been created and secured than in any year for over a decade."
New York, NY (PRWEB) August 03, 2012
Yesterday UK Trade & Investment announced the United Kingdom's Investment Figures for 2011. Strong inward investment into the UK economy created or secured more than 112,000 jobs in 2011/12, a rise of 19 per cent from the previous year. Within this figure there were 336 projects from the United States with a total of 37,525 jobs created and safeguarded.
The figures announced by Secretary of State for Business Vince Cable indicate that companies investing in the UK are continuing to succeed, laying the foundations for growth across the country. Inward investment created 52,741 new jobs, a 26% increase on 2010/11, and secured 59,918 existing jobs, an increase of 14%.
The UK continues to attract more foreign direct investment (FDI) than any other European country, generating more than a thousand new jobs each week.
Jobs have increased across a range of sectors, including advanced engineering, life sciences, environmental technologies and the creative industries. A 22 per cent rise in manufacturing projects shows the crucial role of inward investment in helping rebalance the economy.
Business Secretary Vince Cable said:
"These figures are a clear demonstration that international investors have confidence in the UK. Despite a difficult international economic climate, more jobs have been created and secured than in any year for over a decade.
"Openness to investment is crucial for sustainable economic growth, and the Government has worked hard to ensure UK remains attractive to companies around the globe. A reduced and simplified tax burden and a clear headed approach to rebalancing the economy have helped maintain our position as the top destination in Europe in which to do business.
"The bottom line is that firms of all sizes believe that if they come to the UK, they will grow and succeed."
Trade and Investment Minister Lord Green said:
"In an intensely competitive economic environment, the Government will continue to work to win and maintain the confidence of the international business community. Through the most competitive tax system in Europe, coupled with support and advice for entrepreneurs, and a renewed drive to market the UK overseas, we'll continue to support existing investors and reach out to emerging economies and industries."
The UK attracted investment from 58 countries. The USA remains the largest investor and China is now the third largest creator of new projects. After the US, French investment generated more jobs than investment from any other country.
2011 US investment into the UK was led by the Advanced Engineering industry, followed by Business Services and the Creative & Media sector. The number of investment projects in 2011 fell slightly from 288 to 336, but there were a higher number of jobs created in 2011 than the previous year.
About UK Trade & Investment
UK Trade & Investment (UKTI) is the UK government department that helps UK-based companies succeed in the global economy. We also help overseas companies bring their high quality investment to the UK's economy – acknowledged as Europe's best place from which to succeed in global business. UKTI offers expertise and contacts through its extensive network of specialists in the UK, and in British embassies and other diplomatic offices around the world. We provide companies with the tools they require to be competitive on the world stage.
For more information on UKTI, visit http://www.ukti.gov.uk. For latest press releases, visit the online newsroom at http://www.ukti.gov.uk/media.
Inward investment results are available online at: http://www.ukti.gov.uk