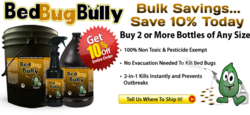 Just like the rest of its green cleaners, MyCleaningProducts stated that its Bed Bug Bully is non-toxic.
Cincinnati, OH (PRWEB) August 02, 2012
Bed Bug Bully reviews are more than just rambles of good words from satisfied clients. They are also evidence of the high-quality bed bug elimination that can be delivered by the solution. And so to all London visitors, MyCleaningProducts suggests the use of it for a bed-bug-free home.
Get Rid of Bed Bugs Right. Order Your Bed Bug Bully Now
As pests that love high-traffic places, bed bugs are not welcome but are expected participants to the 2012 London Olympics. And given that they are very hard to detect and that it is difficult to halt their spread, Olympic athletes and London visitors were warned of their presence and were advised to take steps to prevent any encounter with the by a report from sportlive.co.za.
However, sneaky as bed bugs are, there is always the possibility of getting in contact with them. And given at times that a person could be unconscious about the encounter, one can easily bring them home.
So to help Olympic-bound visitors protect their homes from the said pests' presence, green cleaning company MyCleaningProducts advised the stocking of a bed bug product. With a bed bug solution ready, one can immediately implement a bed bug elimination. And that basically prevents farther bed bug spread which in return saves a person from many problems.
Particularly, the immediate elimination of the vampire-like pests prevents additional medical expenses. That's because the early elimination of the small but troublesome creatures spares anyone from a mirada of bed bug bites. It also saves a property owner from any spending for the replacement of a bed-bug-overthroned furniture item.
However, despite the many bed bug solutions now available, only a few are actually worth it. Most of today's bed bug products are with chemical pesticides that can harm a person's health and even the environment. For an elimination that is effective and also safe, MyCleaningProducts said that its Bed Bug Bully is the best to purchase.
Discover How Bed Bug Bully Is Made Non-Toxic
Just like the rest of its green cleaners, MyCleaningProducts stated that its Bed Bug Bully is non-toxic. Specifically classifying it as a pesticide-exempt solution, a company representative said that the use of it does not cause headache, dizziness or breathing difficulties.
The elements that make the said product non-toxic and safe are basically its natural ingredients. However, the rep asserted that the organic ingredients do no make the product less effective compared with the solutions that are chemical based. In fact, it makes it even a much better pick since it enables the solution to offer more benefits.
And to add another to those benefits, MyCleaningProducts advises the purchase of its Bed Bug Bully today. The company is giving out a 10% discount for all its bed bug products this week. To take advantage of it, a buyer just had to enter code 'pr10' at checkout.
Get Your Bed Bug Bully Today and Save Big