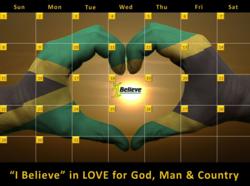 AWG is quite an impressive innovation which aptly fits into the overall thrust of the Commission
Boca Raton, FL (PRWEB) August 01, 2012
Copiers Limited Jamaica today announced the availability of its patent-pending news and information service Ah Wha Gwan™. The service made its public debut to thousands at the Jamaica Cultural Development Commission's (JCDC) 2012 Miss Jamaica Festival Queen Competition, a national Jamaica 50 event held at the National Indoor Center in Kingston Jamaica on Sunday July 22, 2012.
The Governor General's "I Believe" Initiative (IBI) through a strategic partnership with Copiers Limited has co-branded the Ah Wha Gwan™ (AWG) service as "the official screensaver of the IBI".
The AWG service allows Jamaicans living at home and within the Diaspora to stay in touch with Jamaican and international news in a simple and effortless manner. It is available as a free download at http://www.ahwhagwan.com and runs as a screensaver on any internet connected Windows PC manufactured since the year 2000, making it useful and easily accessible to all socio-economic classes.
Governor General Sir Patrick Allen launched the IBI to inspire and empower Jamaicans to 'use what is right with Jamaica to fix what is wrong with Jamaica.' Nicholas Chambers, Coordinator of IBI stated that "the cutting edge technology of the AWG service is one that will enable the IBI to successfully lead a campaign through strategic partnerships to harness the belief and support of all Jamaicans at home and in the Diaspora, to inspire the achievement of our full potential, and encourage individual as well as collective contribution to the realization of a prosperous and peaceful Jamaica".
Miss Elizabeth Smith, Research Officer at the JCDC seized the opportunity to showcase the innovation at the Miss Jamaica Festival Queen competition after seeing a demo a couple weeks prior. Smith stated that "AWG is quite an impressive innovation which aptly fits into the overall thrust of the Commission, which is to transmit the best of Jamaica's culture to the world and to preserve Jamaica's rich heritage for posterity."
Information on the Jamaica 50 merchandise currently being sold to commemorate the country's 50th year of independence has been incorporated allowing viewers to see memorabilia photos and pricing. A special Olympic coverage is also being provided to make it easy to stay in touch with the 2012 games in London.
With the traditional and online media saturated with entertainment and the hectic pace of life overall, Copiers Limited and the IBI aim to help the Jamaican community in homes, schools, and businesses to invest at least five minutes daily to empower themselves and discover the world through Ah Wha Gwan™.