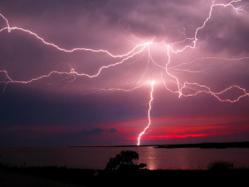 Don't ever think for even a minute that the best technologies always win.
Austin, Texas (PRWEB) August 01, 2012
Parts-People.com announces publication of a review of two competing, high-speed laptop port technologies. That article titled, "Intel's Thunderbolt vs AMD's Lightning Bolt or Just an Open Source Standard?" reaches some surprising conclusions, and points to the possibility that an open source standard may benefit both consumers and the entire semi-conductor ecosystem to a far greater degree than multiple proprietary standards.
That article identifies distinguishing differences and advantages of Lightning Bolt and Thunderbolt technologies, and briefly explores some implications for professionals and mainstream consumers. It cautions: "Don't ever think for even a minute that the best technologies always win. They frequently don't. A gorilla at the playground can often beat-up the smaller, but very intelligent so-called "nerd". Intel may know their Thunderbolt will fade from the scene in the same way that FireWire has diminished, but it may still be used to keep the smaller "nerd" from getting a decent meal at the cafeteria. Right about now AMD could really use a good, hot meal."
That technology review also explains why one of the "bolt" standards can continue to progress indefinitely, while the other may actually be a dead end. The Parts-People article also identifies reasons that one of those standards is far to costly to ever see widespread implementation.
About Parts-People.com
Parts-People.com operates an online store offering one of the largest selections of Dell replacement parts on the internet, with more than a quarter of a million parts in stock.
The online store, at Parts-People.com, serves a large number of businesses, school districts, individual consumers, government agencies, and non-profits that do not, or cannot make eBay purchases, for a variety of reasons. The technical staff is composed of experts trained to work on Dell products exclusively; a substantial reason that individuals and organizations ship their laptops to Parts-People, from all over the world, for repair and service.
Parts-People.com is a comprehensive knowledge-base resource center, with technology information services which include the Technology News, Analysis & Assessments section of the web-site.
In addition, the website provides continually updated Dell service manuals, as well as daily production of online tutorial, do-it-yourself, how-to-repair laptop videos.
Established in 2002 as a start-up, entrepreneurial, family-owned business, the company's rapid growth in 2003 caused a move to centralize operations in 14,000 square-feet of mixed office, warehouse, and retail space. The company continues to build components inventory in Austin's growing technology hub, and stocks more than 250,000 Dell laptop parts physically in-house, and ready to ship same day.
Parts-People's growth is enhanced by its location in Austin, which is recognized world-wide as a technology hub. The area is also home to offices of companies such as: AMD, Apple, Cirrus Logic, Dell, Evernote, Facebook, Freescale, Google, HP, IBM, Microsoft, National Instruments, Nvidia, PayPal, Silicon Labs, and 3M. Frequently called Silicon Hills, Austin is also known to art, music, and SXSW (South-by-Southwest) aficionados as simply, "the ATX".
Contact Information
Parts-People.com can be reached toll-free at 866-816-5254. The main phone number is 512-339-1990. The fax number is 512-339-1996. E-mail: info(at)parts-people(dot)com.