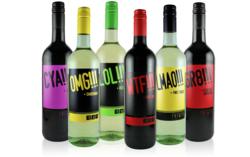 "TXT Cellars is a fun brand playing on texting acronyms with unpretentious, fruity, easy to drink wines. It is important for us to balance the levity of the brand with the serious message that neither texting nor drinking goes with driving."
Secaucus, NJ (PRWEB) August 01, 2012
TXT Cellars, the wine brand launched in late 2011 with popular texting acronyms on its labels, has just launched a new online responsibility campaign petitioning consumers to sign a pledge on its website that they will not drink and drive or text and drive.
All consumers of legal drinking age are invited to visit http://www.txtcellars.com and follow the link on the home page to "Take The TXT Cellars Pledge," or they can simply scan the QR code found on the wines' back labels to sign up for the pledge on a smart phone. Additionally, the campaign will be promoted through Facebook ads and on point-of-sale materials.
The online form asks that consumers opting to take the pledge input their name, address and date of birth in exchange for a bumper sticker that affirms "I Took the TXT Cellars Pledge … Have You?" Additionally, the first 1000 consumers to sign it will also receive a free TXT Cellars T-Shirt. All eligibility details are available on the website.
"TXT Cellars is a fun brand playing on texting acronyms with unpretentious, fruity, easy to drink wines. It is important for us to balance the levity of the brand with the serious message that neither texting nor drinking goes with driving. It is our hope that encouraging our consumers to sign the TXT Cellars Pledge will make them think twice and lead to good decisions," stated Vision Wine & Spirits Managing Director Dan Lasner.
TXT Cellars currently consists of OMG!!! Chardonnay, LOL!!! Riesling, LMAO!!! Pinot Grigio, WTF!!! Pinot Noir, CYA!!! Shiraz and GR8!!! Cabernet Sauvignon. All wines are available in most major markets across the USA and are sold in 750ml format for a suggested $7.99-$9.99.
Vision Wine & Spirits, LLC is an importer of fine wines and spirits from around the globe and is dedicated to open, long-term relationships with its suppliers, building brands and bringing new and innovative products to the market for the wine and spirits trade and consumers at competitive prices. For more information, please visit http://www.visionwineandspirits.com and http://www.txtcellars.com.
###