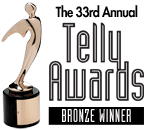 "Winning the Telly is a real honor," said Izzy Pycher, Senior Vice President of Creative Services for Bluegreen.
Boca Raton, Fl (PRWEB) August 01, 2012
Bluegreen Vacations, a leader in the vacation ownership industry announced today that it won a 2012 Bronze Telly Award in the travel/tourism category for its Shenandoah Crossing Resort Story Video. With nearly 11,000 entries from all 50 states and numerous countries, this is truly an award of distinction.
The Shenandoah Crossing Resort Story Video is approximately four minutes long, showcasing the vacation club's rustic resort in Gordonsville, Virginia. The narration, high-quality video footage and owner testimonials all work together to give the viewer a true feel of the serenity of the Shenandoah Valley, where the resort is located.
"Winning the Telly is a real honor," said Izzy Pycher, Senior Vice President of Creative Services for Bluegreen. "Each of our resorts has a story to tell, but Shenandoah is truly unique. With its tent-like accommodations known as "yurts" to its cabins to the RV pads, it is a great destination for our owners who love the outdoors. There is something romantic about being in the Shenandoah Valley and we thought the video conveyed that very well."
For its 33rd season, The Telly Awards once again joined forces with YouTube to give the public the power to view and rate videos submitted as part of the People's Telly Awards. In addition to recognition from the Silver Telly Council, the judging panel that selects the Telly Awards winners, the Internet community helps decide the People's Telly Awards winners.
A prestigious judging panel of over 500 accomplished industry professionals, each a past winner of a Silver Telly and a member of The Silver Telly Council, judged the competition, upholding the historical standard of excellence that Telly represents. The Silver Council evaluated entries to recognize distinction in creative work – entries do not compete against each other – rather entries are judged against a high standard of merit. Less than 10% of entries are chosen as Winners of the Silver Telly, our highest honor. Approximately 25% of entries are chosen as Winners of the Bronze Telly.
"The Telly Awards has a mission to honor the very best in film and video," said Linda Day, Executive Director of the Telly Awards. "Bluegreen's accomplishment illustrates their creativity, skill, and dedication to their craft and serves as a testament to great film and video production."
To find out more about the Telly Awards visit our website at http://www.tellyawards.com.
ABOUT BLUEGREEN CORPORATION
Founded in 1966 and headquartered in Boca Raton, FL, Bluegreen Corporation (NYSE:BXG) is a leading timeshare sales, marketing and resort management company. Bluegreen Resorts manages, markets and sells the Bluegreen Vacation Club, a flexible, points-based, deeded vacation ownership plan with more than 160,000 owners, over 60 owned or managed resorts, and access to more than 4,000 resorts worldwide. Bluegreen also offers a portfolio of comprehensive, turnkey, fee-based service resort management, financial services, and sales and marketing services on behalf of third parties. For more information, visit http://www.bluegreencorp.com. See what Bluegreen owners are saying on Facebook or follow watch us on YouTube. Visit our Press Room to find out more about what's happening with Bluegreen Corporation and Bluegreen Vacations.