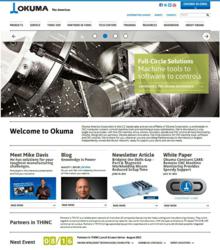 Our new website is designed to become a valuable resource for the content our audiences are seeking.
Charlotte, NC (PRWEB) August 01, 2012
Okuma America Corporation, a world leader in CNC machine tools, today launched a new website at http://www.okuma.com. The site is designed to deliver expanded content offerings and state-of-the-art usability features – all within a highly engaging online environment. The website serves as the centralized hub for all of Okuma's online properties, with connections to specialized platforms including YouTube, Facebook, Twitter and LinkedIn.
"In today's manufacturing environment, knowledge is king," says Julie Murphy, marketing manager, Okuma America Corporation. "Competitive advantage comes, first and foremost, from awareness and understanding of the latest in CNC machine tool technology, innovations and best practices. Our new website is designed to become a valuable resource for the content our audiences are seeking."
Key features of the new website include:
•Enhanced CNC machine tool information: Conveniently organized, with descriptions of best-suited applications, and complete detail down to full specifications
•Dedicated 5-Axis Product Section: Expanded information on Okuma's lineup of 5 axis CNC machines designed specifically for manufacturing high precision, complex parts
•White Papers: Deep discussions on emerging technologies and specialized product/service offerings
•Case Studies: Real-world problem/solutions, and the dramatic results achieved in partnership with Okuma customers
•New Blog: Fresh, informative perspectives on hot industry topics
•Additional Photography and Videos: The next best thing to hands-on experience with Okuma CNC machine tools
•State-of-the-art Usability: Streamlined navigation, in-site search function, and mobile-optimization for tablets and multiple phone platforms
•Partners in THINC: With the open architecture, PC-based THINC®-OSP control as its nucleus, Partners in THINC is the collaboration of more than 40 industry leaders who come together to solve problems and explore new productivity ideas for real-world manufacturers. Detailed information about this program is now incorporated within the main Okuma website, to facilitate easy access to Partners and cross-referencing of topics.
The new website can be viewed at http://www.okuma.com.
About Okuma America Corporation
Okuma America Corporation is the U.S.-based sales and service affiliate of Okuma Corporation, a world leader in CNC (computer numeric control) machine tools and machining process optimization, founded in 1898 in Nagoya, Japan. The company is the industry's only single-source provider, with the CNC machine, drive, motors, encoders, spindle and CNC control all manufactured by Okuma. Along with its industry-leading distribution network (largest in the Americas), Okuma delivers an expansive breadth of products, technology strength and innovation, and deep service and support offerings that empower the customer. For more information, visit http://www.okuma.com
About Partners in THINC
Partners in THINC is a collaboration network of more than 40 industry leaders who come together to solve problems and explore new productivity ideas for real-world manufacturers. With the open architecture, PC-based THINC®-OSP control as its nucleus, Partners in THINC brings specialized equipment, expertise and a commitment to provide the best possible integrated solutions to the end-user. For more information, visit http://www.okuma.com/partners-in-thinc
Image included – Screen shot of the new http://www.okuma.com