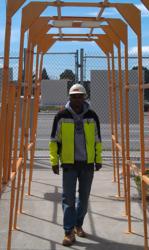 Our goal is for our customers to have convenient, real-time access to their workforce data at anytime and from anywhere ...
Reston, Virginia (PRWEB) August 16, 2012
ADR Software, LLC (ADR) today announced the introduction of Sharepoint integration capabilities for its automated Workforce Monitor service. ADR provides automated workforce monitoring services to the commercial construction industry using a proprietary, on-site tracking infrastructure and anywhere-anytime web-based reporting application. The system utilizes RFID tags embedded in all-weather job stickers affixed to ordinary hard hats and/or ID badgers to track the comings and goings of workers on commercial construction job sites. Because the system is non-contact oriented, traffic flow is unaffected and productivity in increased.
"Sharepoint is becoming an increasingly more central part of our clients' IT mix," said Bruce Labovitz, co-founder and President of ADR. "We are agnostic about how clients access the information we collect and we are focused on open access to the data. While we have a robust web-based reporting platform, we have developed our systems to be capable of delivering information to our users on multiple platforms. Our goal is for our customers to have convenient, anytime-anywhere access to their real-time workforce data because that's how profitable construction jobs are managed in the field. Adding Sharepoint to the list of front-end reporting platforms our clients can employ to make their data available when and where they need it is a significant milestone for us."
With the release of the SharePoint access module, general contractors, project owners and sub-contractors can toggle between real-time labor charts which intuitively display, by trade: 1) the number of workers who came to the site that day; 2) the number of workers who are actually on the site at any given time during the day; and 3) the difference between planned and actual labor for the day. Additional capabilities within the Sharepoint access release include the ability to retrieve and display workforce demographic analyses for compliance with local employment and minority participation initiatives along with change order and overtime verification.
Workforce Monitor is a service of ADR Software, LLC. General contractors, owners, project managers and sub-contractors use the service for any number of reasons including: to enable real-time workforce decision making, to create accurate and timely project workforce documentation, to meet contractual security obligations, to improve safety awareness and response readiness and to reduce exposure to financial risk.
Workforce Monitor utilizes RFID tags, embedded in all-weather job stickers affixed to hard hats and ID badges, to monitor workforce activity throughout the day without delays, interruptions or intrusions. Workforce Monitor is currently monitoring over 20,000 workers at construction sites throughout the United States.